Coming Soon
June 2022 Should Be Especially Exciting for Nintendo Switch Gamers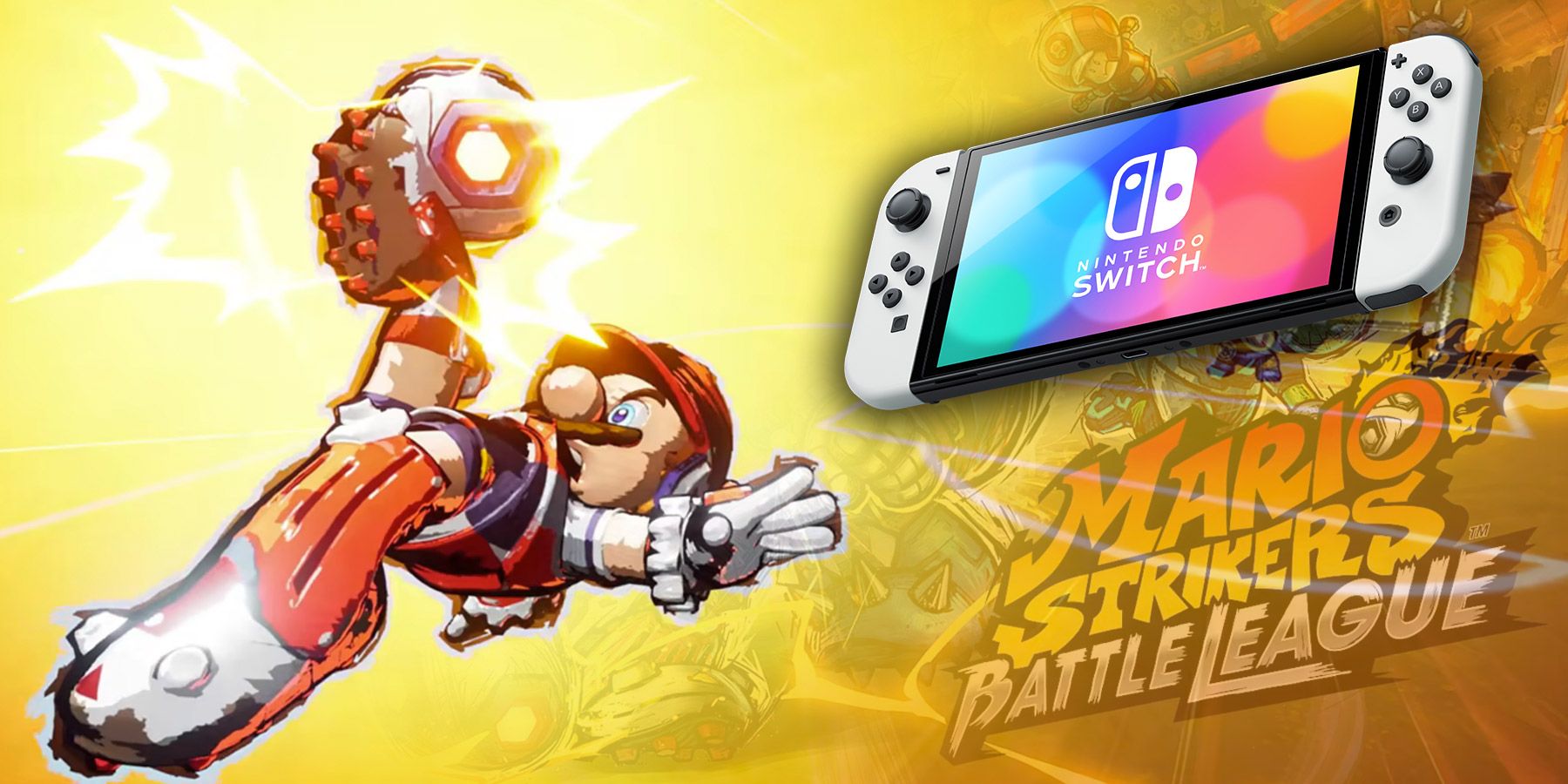 After the sales failure that was the Wii U, the Nintendo Switch has been a massive success for Nintendo. In fact, the Nintendo Switch has become one of the best-selling video game consoles ever made, and that's largely thanks to an ever-growing library of high quality games, including exclusive titles that can only be played on the console. New games are released for the Nintendo Switch constantly, with Nintendo making sure that there's usually at least one new exclusive game for fans to check out every month.
The Nintendo Switch's momentum will continue in full force in June 2022, as the month is shaping up to be an especially exciting time for owners of Nintendo's latest console. June 2022 is traditionally a slow month for new video game releases, and that is true for the Nintendo Switch as well, but it looks like Switch owners have more to look forward to next month than gamers on other platforms.
RELATED: Mario Strikers: Battle League Reveals New Trailers Focused on Customization, Hyper Strikes, and More
At the time of this writing, there are more than 20 new games scheduled to release for the Nintendo Switch in June, with some of the more notable ones listed here. This is not a comprehensive list of every single new Nintendo Switch game release coming in June, but it should still give fans a good idea of what to expect from the console next month.
New Nintendo Switch Game Releases for June 2022 List
Silt – June 1
Card Shark – June 2
Loopers – June 3
Five Memories of My Time With You – June 3
Demon Slayer: Kimetsu no Yaiba – The Hinokami Chronicles – June 10
Mario Strikers: Battle League – June 10
Metal Max Xeno Reborn – June 10
Overlord: Escape from Nazarick – June 16
Omori – June 17
Fall Guys – June 21
Shadowrun Trilogy – June 21
Wreckfest – June 21
Sonic Origins – June 23
AI: The Sominum Files – Nirvana Initiative – June 24
Capcom Fighting Collection – June 24
Fire Emblem Warriors: Three Hopes – June 24
Monster Hunter Rise: Sunbreak – June 30
LEGO Brawls – TBA
Zorro – The Chronicles – TBA
As far as exclusive games go, there are a couple of Nintendo Switch exclusive titles for fans to look forward to in June. The first one is Mario Strikers: Battle League, which is scheduled to launch on June 10. While there's typically not a ton of fanfare for Mario sports games, there's quite a bit of hype behind Mario Strikers: Battle League, and for good reason. The Mario Strikers series has been dormant for over a decade, and so fans are hungry for it to make its triumphant return.
The original Super Mario Strikers released for the Nintendo GameCube in 2005, offering fans a Mario-centric spin on soccer. The over-the-top action helped make Super Mario Strikers a big hit with fans, and it was followed up with Mario Strikers Charged on the Wii in 2007. Like Super Mario Strikers, Mario Strikers Charged earned mostly positive reviews, and it's notable for adding online multiplayer to the franchise.
RELATED: Mario Strikers: Battle League Confirms Walmart Exclusive Pre-Order Bonus
For unknown reasons, the Mario Strikers franchise has been dormant since then, but that will be changing with Mario Strikers: Battle League on June 10. It features vastly improved visuals compared to its predecessors, new game modes, controls, and more, all of which should add up to make for an exciting return to the pitch.
The other notable Nintendo Switch exclusive release in June is Fire Emblem Warriors: Three Hopes. Fire Emblem Warriors, for the uninitiated, is a spin-off of Nintendo's tactics-based series Fire Emblem, trading the franchise's turn-based strategy gameplay for hack-and-slash musou action. Fire Emblem Warriors: Three Hopes is the latest entry in the Fire Emblem Warriors series, with it being primarily based on the critically-acclaimed Nintendo Switch exclusive game Fire Emblem: Three Houses. Both Dynasty Warriors and Fire Emblem fans will want to keep an eye on Fire Emblem Warriors: Three Hopes when it launches on June 24.
While most Nintendo Switch owners may be most interested in the new first-party Switch exclusive games that are on the way in June, there are plenty of big third-party releases to get excited about as well. The Demon Slayer fighting game that previously released for other platforms is finally making its way to the Switch on June 10, while popular battle royale game Fall Guys is launching as a free-to-play title on June 21. Sonic Origins will be available June 23, and the Capcom Fighting Collection launches June 24.
Besides new game releases, there's also a big new expansion for Switch owners to look forward to, as Monster Hunter Rise's Sunbreak expansion will be available starting June 30. All told, Nintendo Switch owners have plenty of reasons to be excited about June 2022 and what it has to offer.
Possible Nintendo Direct Presentation for June 2022
New video games and expansions will keep Nintendo Switch gamers plenty busy in June 2022, but there's also the possibility that they will be given a glimpse at what the future has in store for Nintendo's home console/handheld hybrid. While Nintendo itself has not confirmed any plans to this effect at the time of this writing, there's a chance that the Big N could very well be hosting a new Nintendo Direct presentation in June.
After all, Nintendo traditionally hosts a big Nintendo Direct presentation in June to coincide with E3. While it's true that E3 2022 is canceled, and so the big event isn't taking place this year, that doesn't mean Nintendo won't still have a Nintendo Direct. In fact, other companies have already announced plans to host E3-equivalent events, even with the show itself not taking place. For example, the Xbox & Bethesda Games Showcase will be taking place on June 12 to serve as their E3-equivalent presentation, while Geoff Keighley is hosting Summer Game Fest on June 9. Overwatch 2 will have a special event on June 16, while it's been strongly hinted that the Call of Duty: Modern Warfare 2 reveal will take place on June 8.
Even if Nintendo doesn't have its traditional June Nintendo Direct presentation, that doesn't mean that there still won't be Switch-related announcements for fans to look forward to next month. While fans shouldn't count on any Nintendo announcements happening at the Xbox showcase for obvious reasons, it's entirely within the realm of possibility that Nintendo will have a presence at Summer Game Fest. Nintendo has showcased its games at past events hosted by Keighley, and if the company decides to skip having a Nintendo Direct event this year, it could make sense to highlight some of its 2022 games at Summer Game Fest.
As for what Nintendo-published Switch games could be featured, Nintendo has a number of titles confirmed for release in 2022, including Bayonetta 3, Splatoon 3, Xenoblade Chronicles 3, and of course, Pokemon Scarlet and Violet. There's also the chance that Nintendo would use such an event to shine a spotlight on some of its games coming in 2023 and beyond, like the highly-anticipated sequel to The Legend of Zelda: Breath of the Wild and Metroid Prime 4, the latter of which was announced in 2017 and still has yet to see any kind of proper gameplay trailer.
Whatever happens, it's clear that Nintendo Switch owners have plenty of reasons to be excited about June 2022.
MORE: June 2022 is Shaping Up to Be a Massive Month for Gaming