Last Week
Minecraft Legends' Mobs Could More Directly Impact the Original Game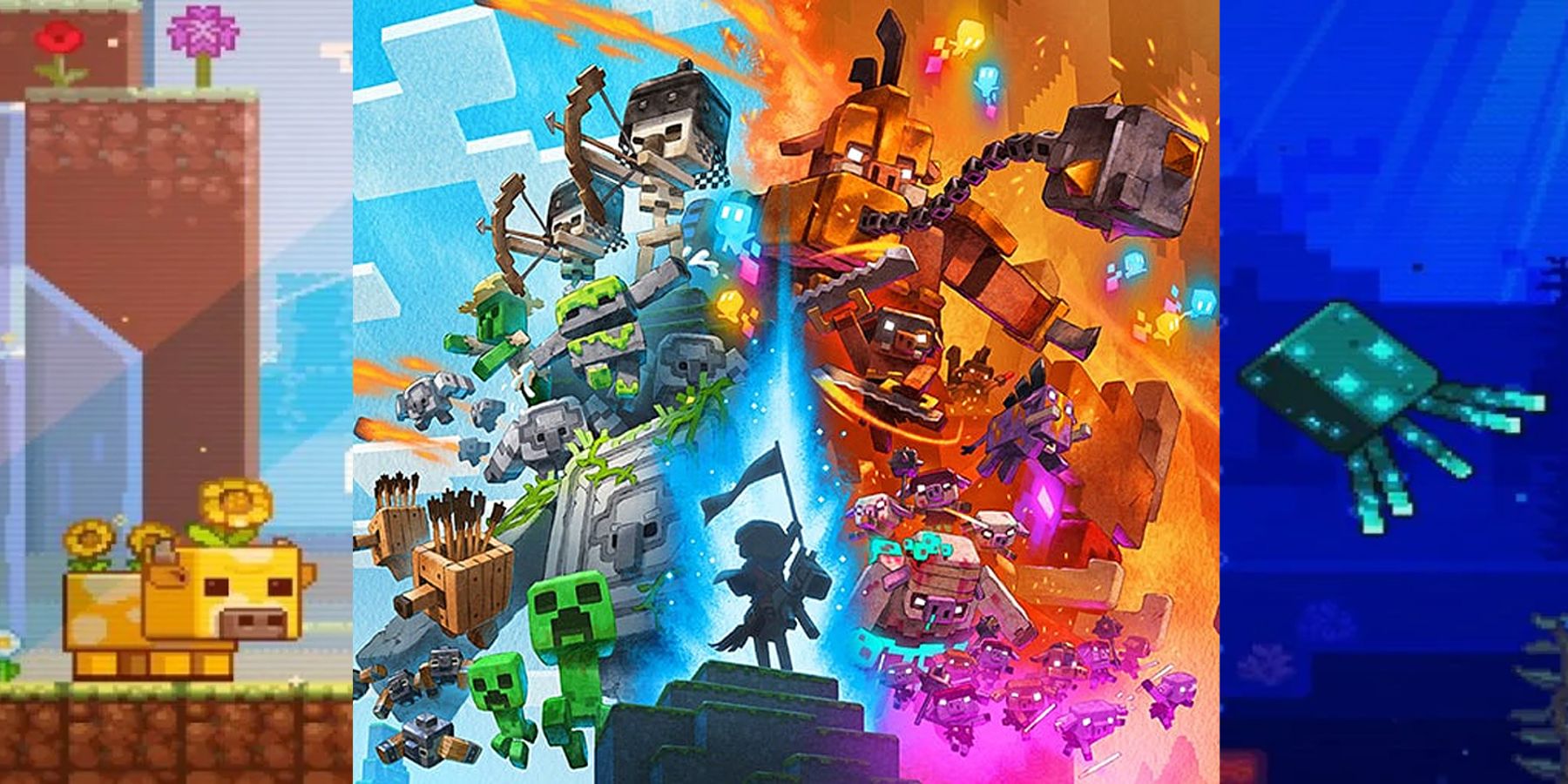 Microsoft has an insane number of developers and IP under its Xbox Game Studios umbrella, especially following the $7.5 billion acquisition of ZeniMax Media and subsequent $68.7 billion acquisition of Activision Blizzard. The scope of offerings on Xbox consoles and the Game Pass service was made clear during last week's Microsoft and Bethesda Games Showcase, though one particularly interesting announcement was another spin-off for one of its most popular brands: Minecraft Legends.
The tech conglomerate acquired Minecraft developer Mojang for $2.5 billion in 2014, and that deal has paid dividends considering Minecraft is now the best-selling game of all time with content generating a collective trillion views on YouTube as of December 2021. It makes sense why the brand is continuing to diversify, and Minecraft Legends is just the latest branch from sandbox building to an action-strategy game developed by Blackbird Interactive – which assisted on Minecraft Earth. Mojang has a mixed history of weaving its spin-offs into the original Minecraft, but Legends' conceit could open more crossover potential.
RELATED: Minecraft's New YouTube Record Showcases Its Longevity and Significance
How Minecraft Legends Compares to Other Spin-Offs
Each Minecraft spin-off has its own audience, from Minecraft: Education Edition that acts as supplemental learning material for schools to the now-shuttered AR mobile game Minecraft Earth that brought the series' mechanics into the real world. The most recent Mojang venture was more a "video game" in the traditional sense; Minecraft Dungeons being a dungeon-crawler akin to Diablo that continually receives content through a seasonal "Adventure Pass" model.
Minecraft Legends is set to be a more narrative-driven experience with a softer art style reminiscent of Telltale's point-and-click adventure game Minecraft: Story Mode. It promises to tell a story in which players unite Overworld mobs (including traditional enemies such as Creepers) to fend of a more hostile, invading force from the series' hellish Nether dimension. The game is essentially a retelling of one legend told by villagers from Minecraft proper, according to Legends' announcement blog post, and players will be just as active in fighting the spread of Nether corruption on foot as they are building structures and gathering armies.
Mojang's blog post praises Blackbird Interactive's "wealth of game design experience" in strategy titles like Crossfire: Legion and the upcoming Homeworld 3, and says this collaboration is meant to help with getting the project together alongside Minecraft and Minecraft Dungeons. It's clear Blackbird had some creative freedom in developing a unique iteration of the brand, with trailers showing off unique portal structures as well as new mobs like mossy stone golems or Piglin generals wielding maces.
RELATED: Lessons That Minecraft: Legends Should Take from Mojang's Prior Spin-Offs
Minecraft Legends' Additions May Hold More Weight
Details about how much this action-strategy game will add to Minecraft's lore is still unclear; Minecraft Legends isn't going to release until an unspecified time in 2023. However, if the point about its story being an in-universe legend holds true, whatever new Overworld and Nether entities are revealed could seamlessly tie into the main sandbox title.
While Mojang has a history of crossing material from spin-offs into Minecraft proper, it has done so in very limited ways. The best example comes from Minecraft Live 2020's "Mob Vote," a now-yearly tradition in which those watching the event can decide what mob will be introduced in the game's next major update. The choices in 2020 were the Iceologer from Minecraft Dungeons, as well as the Moobloom or Glow Squid that originated in Minecraft Earth. The Glow Squid won, and 2021's Mob Vote comprised of entirely original ideas despite there being plenty of interesting spin-off material to pull from – such as Dungeons' Redstone Monstrosity.
Given Dungeons and Earth are relatively disconnected from the main game, it makes sense why their new additions would only slowly be crossed over. The story of Minecraft Legends seems more closely linked to Minecraft's traditional Overworld and Nether dimensions, though. With Mojang continually dropping new biomes, items, and mobs in packages like The Wild Update, any additions made to Legends could cross over as a way of showing the "real" inspirations for its storybook tale.
Minecraft Legends is set to release in 2023 for PC, PS4, PS5, Switch, Xbox One, and Xbox Series X/S.
MORE: Minecraft Legends Could Tap Into Series Urban Legend Herobrine