Last Week
Vin Diesel's Favorite Game Is Ark: Survival Evolved (Unsurprisingly)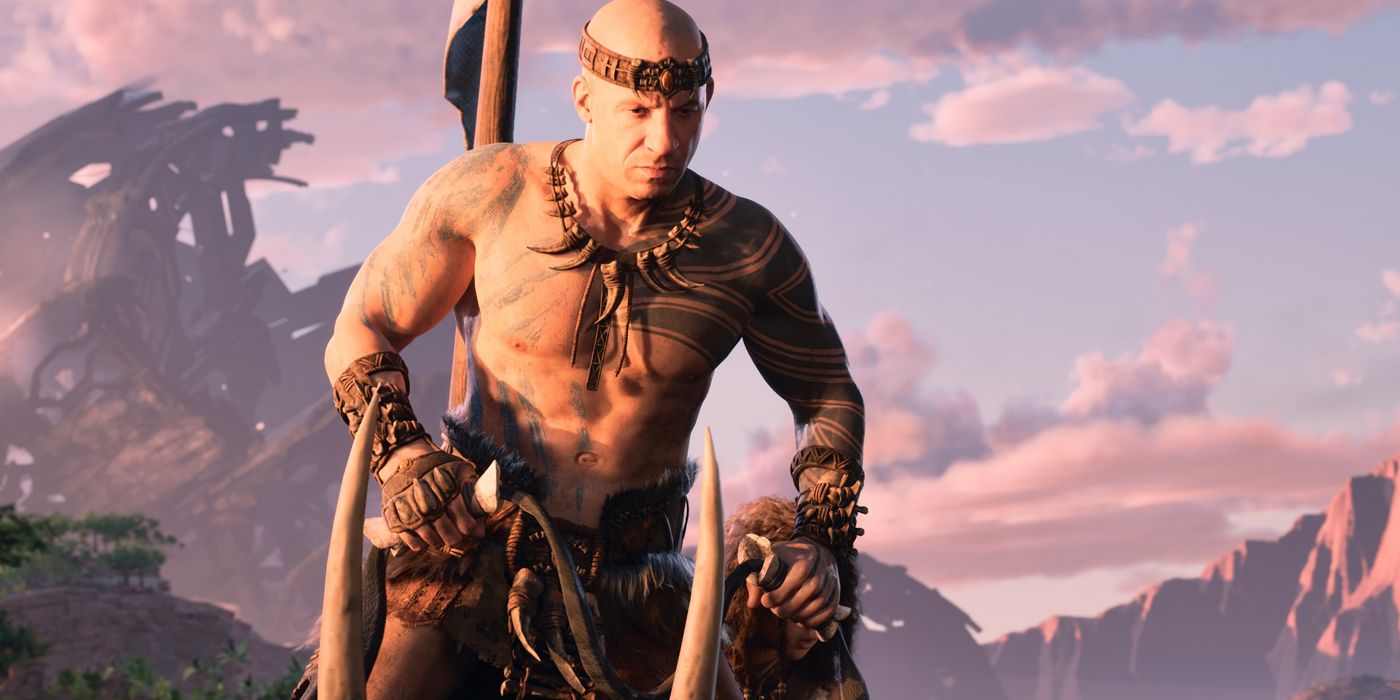 Vin Diesel recently revealed that his favorite video game is Ark: Survival Evolved in the build-up to his starring role in Ark 2 next year.
Vin Diesel recently revealed that Ark: Survival Evolved is his favorite game, which isn't much of a surprise considering his role in the upcoming sequel. The Hollywood star behind the Fast and the Furious franchise has never been shy about his love of gaming, often playing Dungeons and Dragons with other actors and recalling how he used to imagine his dream gaming project when he was a teenager. As an adult, Diesel has lent his signature gravelly voice to several video games based on his most notable film roles, such as the cult classic The Chronicles of Riddick: Escape from Butcher Bay and the not-quite-as-beloved Fast & Furious Crossroads.         
Vin Diesel's latest gaming venture will be Ark 2, the sequel to the 2017 action/survival title Ark: Survival Evolved. It was announced during The Game Awards 2020 and will feature Diesel alongside Moana star Auliʻi Cravalho. He will also appear in an upcoming Ark animated series featuring an all-star cast of Beyond: Two Souls lead Elliot Page, Halo 3: ODST star Alan Tudyk, and several other well-known actors. The visually stunning Ark 2 announcement trailer highlighted Vin Diesel's role as a tribal leader fighting to survive against wild dinosaurs and rival tribes on an untamed island. With much of the game's promotional material seemingly centered around Vin Diesel's character, it seems only fitting that he would be a fan of the original Ark: Survival Evolved.
Related: Download Ark: Survival Evolved For Free Now Before Ark 2 Releases
Earlier this week, Vin Diesel revealed that Ark: Survival Evolved is his favorite video game in a post on his Instagram account. Alongside a trailer for Ark 2, Diesel's post consists of the actor stating that "the best game out right now is Ark Survival Evolved" and recalling how his son introduced him to it. He also states that "any real gamer is excited for Ark 2," and expresses interest in branching the world of Ark: Survival Evolved into movies and television – something the producers of the first game have discussed with him.
Despite receiving mixed reviews due to its tedious grind and uneven technical presentation when it first launched, the original Ark: Survival Evolved has since sold millions of copies and gained a devoted fan following. The success of the game has prompted developer Studio Wildcard to produce five DLC expansions that add new environments and enemy types, as well as providing technical fixes that have ironed out the worst of the initial problems. Ark: Survival Evolved gives players the freedom to explore a brutal alien world in a never-ending struggle for survival, allowing them to strike out on their own or band together with others.      
While there has yet to be any detailed gameplay footage from Ark 2, with past and current teasers taking a cinematic approach, what has been seen of the world so far is likely exciting for fans of the first game. With Ark 2 delayed until next year, gamers have plenty of time to dive into Ark: Survival Evolved and see just what makes Vin Diesel enjoy it so much – especially since the game is currently being offered on Steam for free all week long.     
Next: ARK's Desmodus Draculae Is One Of The Best Fake Monsters
Source: Vin Diesel/Instagram
Ravenlok Looks Like We're Finally Getting American McGee's Alice 3
About The Author