Latest News
10 Must-Play Video Games For Fans Of Top Gun: Maverick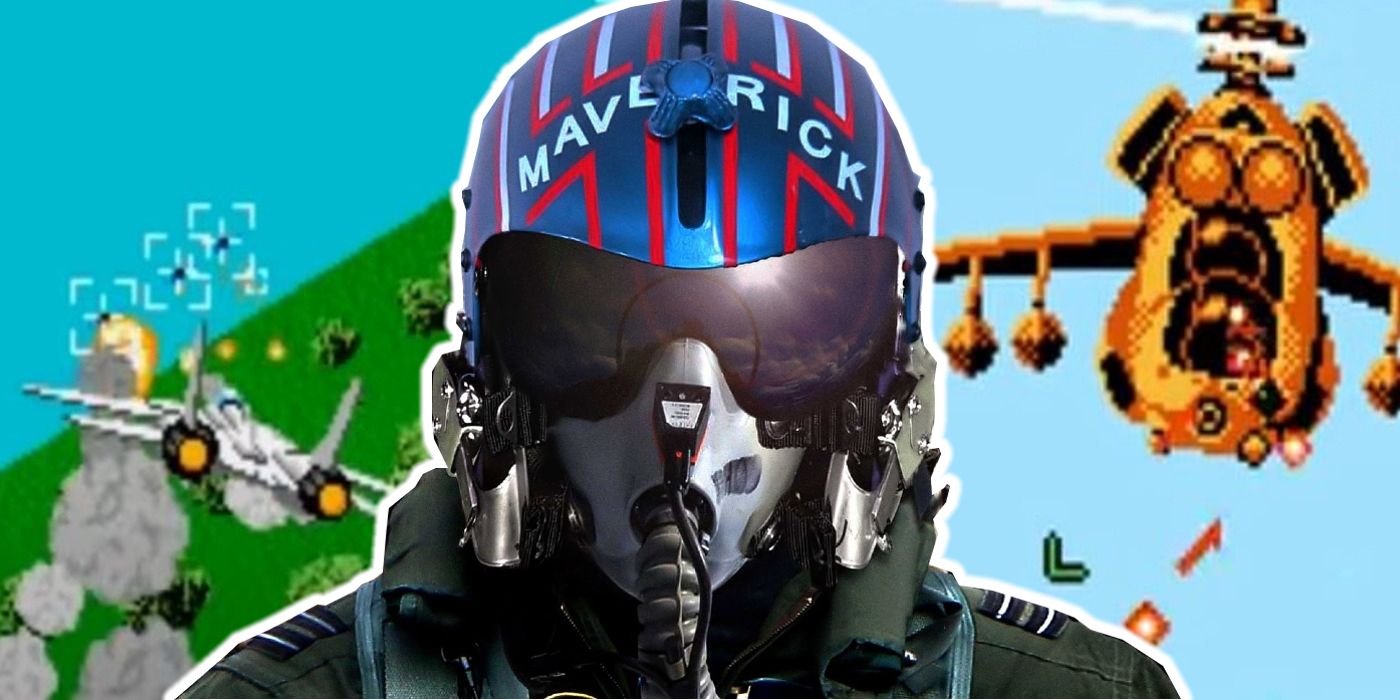 The aerial combat genre can be a bit daunting; while some gamers love to immerse themselves in complex flight sims and partake in painstakingly realistic dogfights, others don't often dabble in games that can't easily be played on a standard controller.
Fortunately, while 2022's Top Gun: Maverick does emphasize realism, its imaginative, high-octane action sequences bring to mind more traditional arcade titles. Of course, many modern games cater to those looking to recreate in detail the daring bombing run seen in the film's third act, but there are also plenty of worthwhile Top Gun-esque experiences out there for those without a Maverick-level knowledge of aviation.
Top Gun/Top Gun: The Second Mission
Notoriously clunky and cumbersome, Top Gun on the NES has an overwhelmingly negative reputation among retro gamers. Yet, one of a very small number of direct adaptations of the 1986 original film, it warrants a mention.
Both Top Gun and the subsequent NES title Top Gun: The Second Mission, inscrutable as they are, deserve recognition as early entrants in the flight simulator genre. Though still arcade-influenced, these games offered first-person views and tasked players with doing things like conducting precise mid-air refuels and meeting strict parameters to land planes on aircraft carriers.
After Burner
Bearing an undeniable Top Gun influence, the 1987 arcade hit After Burner saw arcade-goers piloting a virtual F-14 Tomcat in a sit-down cabinet that moved and titled along with the gameplay. Blazingly fast and frantic, After Burner was a perfect arcade companion to the classic Tom Cruise film, and it's still more than worth playing three and a half decades after it debuted.
RELATED: Top Gun Maverick – 10 Movies With The Best Aerial Dogfight Scenes, According to Reddit
After Burner managed to convey a sense of speed that was unparalleled at the time. SEGA's Sonic The Hedgehog would not hit the scene until 1991, but the publisher's arcade take on Top Gun had him beat years in advance.
Top Gun: Hard Lock
A smattering of Top Gun games was released for PCs and consoles throughout the '90s and 2000s, eventually culminating in 2012's Top Gun: Hard Lock on the Xbox 360 and PS3. Ostensibly a sequel to the original a decade ahead of Top Gun: Maverick, Hard Lock leans heavily into the over-the-top action of the original, demanding that players routinely pull off impossible aerial maneuvers to lock on to and gun down their airborne adversaries.
Scoring an undesirable 54 on Metacritic, Top Gun: Hard Lock was forgotten almost immediately after it came out, but, the final official Top Gun video game tie-in, fans enamored with Maverick may want to give this one a go.
War Thunder
A free-to-play PvP-centric combat sim set during the Second World War, War Thunder may not seem all that suitable for fans of Top Gun. However, while it does include tank and naval combat, aerial dogfights are a huge draw for many fans of the game, and, with settings allowing players to let loose in arcade mode or to tighten up their tactics in simulator mode, it's approachable for gamers of all skill levels.
RELATED: 10 Reasons Top Gun Maverick Is Better Than The Original
The World War 2 theme remains prevalent to this day, though subsequent updates have introduced Cold War-era jets with which fans of the first Top Gun may be familiar.
Battlefield 4
Released in 2013, Battlefield 4 wowed with its massive 64-player PvP lobbies and in-depth gameplay that rewarded teamwork and tactical approaches. Unfortunately, the series is currently headed through dire straights with 2021's underwhelming Battlefield 2042, though that's brought many longtime fans back to the near-decade-old Battlefield installment.
Most Battlefield players shy away from the game's high-skill-ceiling aircraft, but competent pilots are often crucial to success in Battlefield 4. Those who want to reenact the Top Gun: Maverick feeling can do so by dodging stinger missiles and shooting down enemies in a hectic BF4 multiplayer game.
Tom Clancy's H.A.W.X.
In the modern gaming era, the Tom Clancy name is most commonly associated with multiplayer-focused tactical shooters, but, in prior decades, publisher Ubisoft allowed the branding to be applied to a wider variety of games and genres. Loosely connected to the Tom Clancy's Ghost Recon games, H.A.W.X. was an action-packed aerial combat title that added light simulation elements to an otherwise arcade-influenced experience.
RELATED: 10 Best Games Like Tom Clancy's Rainbow Six Extraction
Reminiscent of the oft-lauded Ace Combat games, H.A.W.X. developed into a subseries of its own, with a sequel premiering in 2010. Though it's far from Ubisoft's most memorable outing, it was a worthwhile seventh-gen offering out of which Top Gun fans may get quite a bit of mileage.
Project Wingman
Developed by indie studio Sector D2 and published by Humble Games, Project Wingman is sort of a lower-budget take on the Ace Combat series. Arcadey and outlandish, the title is perfect for those who want the time between takeoff and combat engagement to be as streamlined as possible.
Many of the dogfights in Project Wingman feel right out of Top Gun: Maverick, and, for those with strong stomachs, the game is compatible with VR headsets. Project Wingman may not be the most polished aerial combat title available, but it's certainly able to quicken the pulse.
DCS World
Digital Combat Simulator—more commonly known as DCS World—is a longstanding standard-bearer for the military flight sim genre. Incredibly intricate and complex, DCS World requires that players have at least a casual familiarity with real-world avionics, and it's much more about mastering small details than it is about blowing enemy aircraft out of the sky.
As a result, DCS World isn't easy to recommend; it's very much the sort of game intended only for fans of hardcore simulators. That said, it may be the perfect experience for those who walked away from Top Gun: Maverick feeling as if the movie would have been improved by more in-depth, accurate portrayals of modern-day military aircraft.
IL-2 Sturmovik
Debuted in 2001, IL-2 Sturmovik reigns supreme as one of the most in-depth military flight simulators ever released. Focusing primarily on legendary battles from the Second World War, the game demands patience, practice, and a not-insignificant amount of know-how. More for World War 2 hobbyists than casual players, IL-2 Sturmovik will enthrall enthusiasts while pushing away less knowledgeable players.
Much like War Thunder, IL-2 Sturmovik sticks mostly to World War 2-era aircraft, though it does include a few early jet models that came to define aviation advancements in the late 1940s and early 1950s.
Ace Combat 7: Skies Unknown
With the first entry debuting back in 1995, the Ace Combat series has become the archetypal franchise most closely associated with the aerial combat genre. Interjecting just enough realism to maintain immersion, 2019's Ace Combat 7: Skies Unknown is a perfectly approachable experience that entranced fans both new and old.
In truth, it can take a bit of time for newcomers to overcome the game's learning curve, but it offers an experience that's ultimately as satisfying as it is stylish. While there's not likely to be a Top Gun-branded standalone video game any time soon, Ace Combat 7: Skies Unknown plays that role perfectly.
NEXT: Every Tom Clancy Movie, Ranked According To Rotten Tomatoes
BOTW Cuccos Help Link Defeat A Hinox In The Best Way