Retro
10 Awesome Video Game Demakes (That You Can Play Right Now)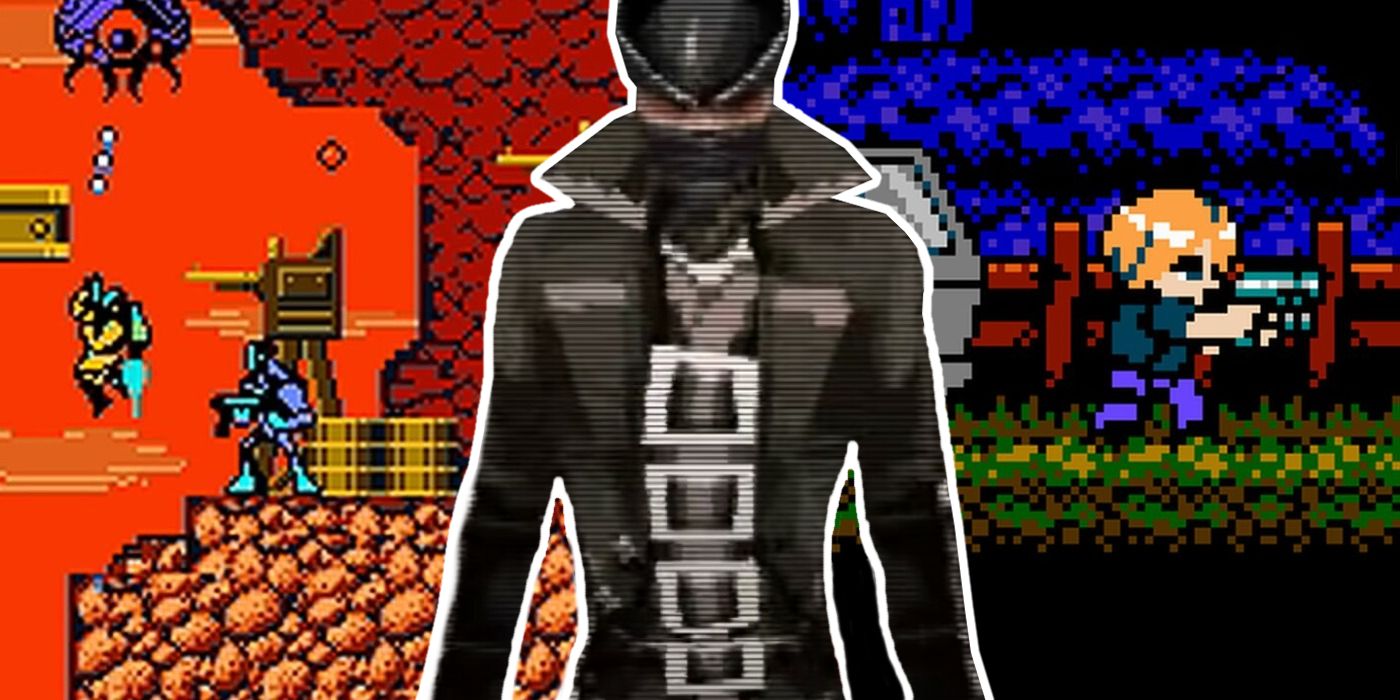 Retro gaming has proven to be more than a niche fad; plenty of gamers remain nostalgic for bygone eras and past-their-prime consoles, and some still prefer older systems to the PS5, Xbox Series X, and Nintendo Switch.
It takes an incredible amount of passion and a considerable amount of know-how, but some fans of retro gaming have taken it upon themselves to "demake" their favorite games. In other words, talented hobbyists remake more recent games with aesthetics and technical parameters befitting older consoles. From polygonal PS1 downgrades of PS4 hits to conversions crammed onto Atari 2600 cartridges, no gamer should pass up these amazing fan-made video game demakes.
Elden Ring GB
From Software's 2022 ultra-hard action RPG Elden Ring is, in the minds of many, a GOTY frontrunner, but what may have the game looked like were modern technologies not available to the developer? It's true that Elden Ring bares non-negligible comparisons to their almost three-decade-old PS1 title King's Field, but what if the hardware meant to run the game had been even less capable than Sony's first console?
YouTuber and Nintendo enthusiast Shintendo answered that question with Elden Ring GB, a playable experience that squishes The Lands Between into a GameBoy cartridge. A Zelda-inspired recreation of the game's opening area, Elden Ring GB can be played right now on itch.io and can be made to run on original hardware for those with the means to make that happen.
Watch Dogs 1985
Ubisoft's Watch Dogs was hyped up as one of the must-have next-generation titles to release on the PlayStation 4 and Xbox One, but many gamers believe the final product to have underdelivered. That said, the IP maintained relevancy throughout the eighth generation and earned two sequels.
RELATED: 10 Best Games That Players Are Meant To Relax In
Arguably more impressive, however, is indie developer hwislon's C64-styled demake titled Watch Dogs 1985. Featuring sidescrolling stealth-action combat, hacking mechanics, and drivable vehicles, the game may not adhere all that closely to the narrative of the source material, but it is otherwise a charming and surprisingly faithful retro recreation.
Max Payne GBA
A titanic turn-of-the-century third-person shooter developed by Remedy, Max Payne turned bullet-time into a must-have mechanic, delivering one of the most stylish shooters of its era. Slated for a remake in the near future, the series still has a loyal following, and those who can't get enough of it may want to check out the underrated GameBoy Advance outing from 2003.
RELATED: 10 Best First-Person Shooters (For People Who Don't Like First-Person Shooters)
An official release developed by Mobius Entertainment, Max Payne's GBA incarnation may not fit the typical demake archetype, but it's effectively an all-new version of the original game made for vastly inferior hardware. An isometric title, it's surprisingly thrilling despite the hampered control scheme, and it serves as an accurate reimagining of Max Payne on Nintendo's early-2000s handheld.
Dark Void Zero
Dark Void was a 2010 third-person shooter that, while innovative in some respects, failed to stand out from a torrent of similar titles and quickly fell from the gaming forefront. The game likely would have been forgotten entirely were it not for the DSiWare title Dark Void Zero released around the same time which served as an eight-bit recreation of the AAA seventh-gen experience.
Colorful and creative, Dark Void Zero is in many ways more approachable and fun to play than the companion title to which it was meant to bring attention. Spoofed as a lost NES title released decades after the fact, Dark Void Zero is a demake that managed to eclipse its inspiration.
Grand Theft Auto GBC
Rockstar Games' Grand Theft Auto series wouldn't attain widespread fame until 2001's Grand Theft Auto III, though the first two top-down titles accrued a not-insignificant following. In fact, they were successful enough to warrant ports to Nintendo's GameBoy Color, a task few developers likely would have envied.
Condensed, compressed, and full of consolations, Grand Theft Auto on the GBC was only barely recognizable as a GTA title. However, at the time, this was an ambitious release worthy of recognition. Today, there's no reason to play this handheld video game demake, though Grand Theft Auto megafans may get a kick out of it.
Disco Elysium Game Boy Edition
Released in 2019, Disco Elysium is a detective noir RPG with a heavy focus on storytelling. Complex, impactful, and visually stunning, it was without a doubt one of the best RPGs of its release year. Able to fully immerse players in a wonderfully-rendered world that their decisions help to shape, Disco Elysium could not possibly work were it paired down or compromised in any way.
RELATED: 10 Best Remakes Of Classic RPGs
At least, that's what fans thought before Colin—also known as BloodyStapler—retrofitted the game for Nintendo's iconic 1989 handheld. A labor of love that expertly recreates the stylish aesthetic of the source material despite the eight-bit limitations, this is a must-play for Disco Elysium fans.
Halo 2600
Developed in 2010 for gaming hardware that, at that point, was more than 30 years old, Halo 2600 was the passion project of Ed Fries, once the vice president of game publishing at Microsoft. A very loose recreation of the smash-hit Xbox title, Halo is imagined here as a top-down shooter staring a decidedly-blocky Master Chief.
Halo 2600 was hailed as a triumph when it debuted, and it still stands as one of the most renowned video game demakes of all time. While the experience can be completed in less than ten minutes, it remains an exciting creative endeavor that helped to draw attention to the art of demakes.
Duke Nukem Advance
Nintendo's GameBoy Advance was a well-received handheld system that served as a much-needed upgrade from the aged GameBoy and GameBoy Color consoles. It was perfectly capable of playing even the most demanding 2D sidescrollers from the fourth and fifth console generations, but most considered it to be incapable of any worthwhile 3D undertakings.
RELATED: 10 Best FPS Game Villains, Ranked
Despite that, a handful of first-person shooters saw release on the GameBoy Advance, perhaps the most successful of which was Torus Games' Duke Nukem Advance. The title was definitely a step down compared to the beloved FPS classic Duke Nukem 3D, but, given the limitations of the hardware on which it ran, it was a more than respectable conversion.
Bio Evil 4
A recreation of the opening segment of Resident Evil 4, Gypopothomas' Bio Evil 4 works as a wild reimagining of the seminal survival horror experience. Inspired by classic NES titles like Castlevania and Ghosts n' Goblins, Bio Evil 4 sees players assume the role of Leon Kennedy as he quests through a remote village in pursuit of the President's M.I.A. daughter.
It's a surprisingly challenging experience that packs quite a lot into a 12MB file. Capping things off with a daring engagement against the horrifying Dr. Salvador, this makes for a worthwhile distraction during the months-long wait for Capcom's official Resident Evil 4 remake.
Bloodborne PSX
From Software's Bloodborne is the crown jewel of the PlayStation 4 library. An elusive exclusive that likely caused thousands of From Software fans to purchase PS4s, many still argue that Bloodborne is the best From Software-developed title of all time.
Its continued status as a PlayStation exclusive brought about comparisons to more traditional PS titles such as Crash Bandicoot and Resident Evil, and this prompted indie dev LWMedia to produce perhaps the most robust video game demake of all time. A recreation of Bloodborne's Yarnham replete with all new content, this cannot be missed by fans of the original PlayStation console.
NEXT: 10 Unpopular Opinions About Classic Video Games, According To Reddit
Marvel's Spider-Man Remastered's PC Release Breaks An Insomniac Promise