This Month
10 Biggest Game Announcements From June's Showcases, Ranked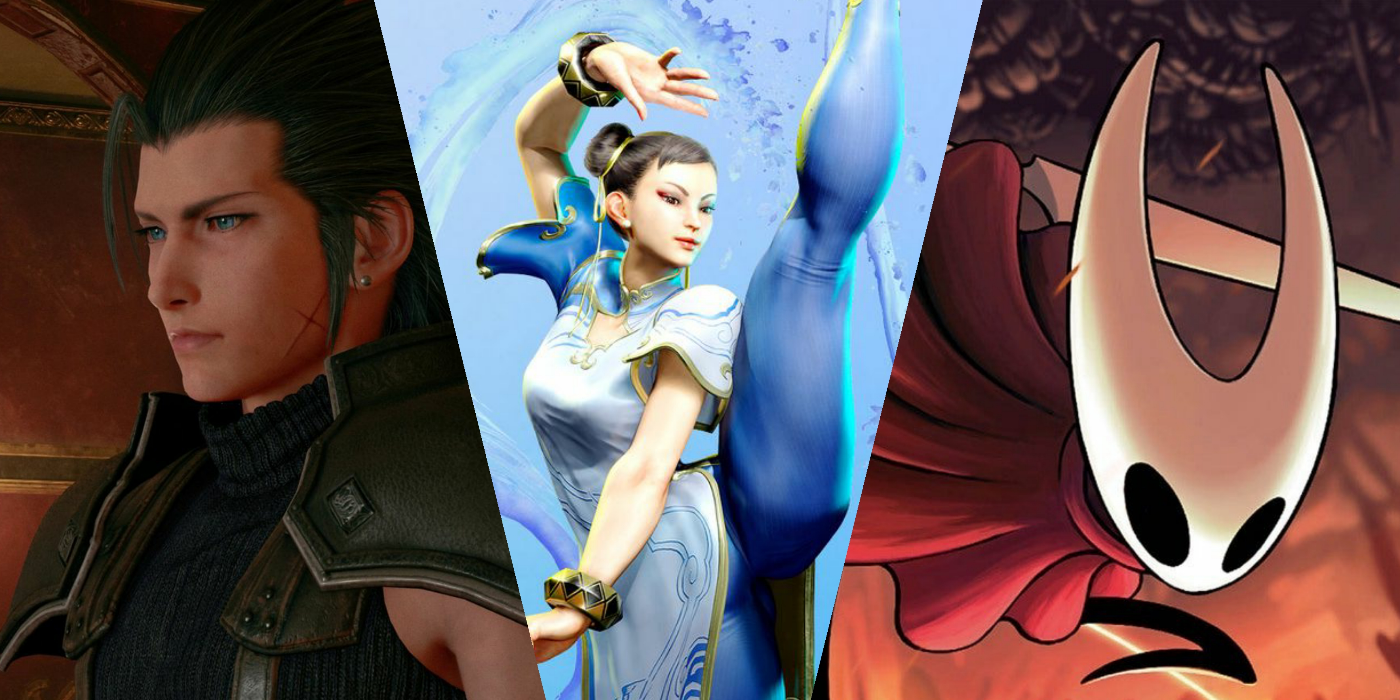 Video games are the name of the game this June, and there are a lot of names out there to be hyped about. Announcements have been coming out left and right, and it's hard to keep track of which games have been teased. That said, some revelations are so huge that gamers are bound to see them anyway.
These games, whether it's because they were completely unexpected, or long-awaited, were met with incredible reactions from players and fans around the world. While most titles got a reaction, these are the June showcase reveals that people are most excited about.
10

Persona on Game Pass
As far as unexpected ports go, this is one of the biggest surprises of the June showcases. During Xbox's live stream, they announced that Persona 3 Portable, Persona 4 Golden, and Persona 5 Royal would be ported to both Xbox and PC. Not only that, they will be available to Game Pass subscribers on release.
RELATED: 10 Best PS2 RPGs Ever, According To Ranker
Most gamers did not even think about the possibility that such a prized PlayStation exclusive franchise would ever leave the Sony family of consoles. Thankfully, the folks at Atlus have decided to go in a new direction, making Persona available to a much wider audience than before.
9

The Callisto Protocol
From Glen Schofield, co-creator of the Dead Space series, comes actual gameplay footage of this sci-fi horror game. While it had already been announced over a year ago, the June showcase revealed actual gameplay, and most importantly, a release date of December 2022.
Fascinatingly, the Dead Space remake, Schofield's own work, is set to release only a month later on January 2023. Fans of the Dead Space franchise can count themselves lucky to be receiving two new games with that iconic Dead Space cinematic experience.
8

Dragon Age: Dreadwolf
Bioware has had a bad few years at this point, but they are hoping to regain some of their status with the announcements of fourth entries into their beloved franchises. Mass Effect 4 was announced recently but for June, Bioware has confirmed the development of Dragon Age: Dreadwolf.
At the moment, very little is known about the game itself. According to Kotaku, the game has restarted development several times at this point. It has gone from a single-player narrative game to an Anthem-like live service game then back to a direct single-player sequel once more. The announcement of a name at least gives fans hope that a plan has been put into motion, and it's hopeful that they will stick to it.
7

Resident Evil 4: Remake
Resident Evil 4 is considered by many to be Capcom's magnum opus. It's not only one of the highest-ranked Resident Evil games of all time, it's considered one of the best games ever made, period. So to say that the Remake has a lot to live up to is putting things lightly.
RELATED: Every Resident Evil Monster From The Games That Made It Into The Films
From the trailers and developer insights, Resident Evil 4: Remake seems to be changing the tone to a darker one, both visually and narratively. Leon is much more introspective, while the village itself is shrouded in an eerie blue mist. Fans of the franchise will be eyeing this game with optimism and caution.
6

Star Wars Jedi: Survivor
Star Wars: Jedi Survivor is set five years after the first game, one of the best Star Wars games ever made. Cal, still on the run from the Empire, is under a lot of pressure as the full weight of his fate as the last Jedi (to his knowledge) starts to overwhelm him. The game is set to further expand the Star Wars lore in several interesting ways, using the same combat systems of the first.
From an interview with Stig Asmussen, the game's director has said that the game is set to explore worlds that have been named in Star Wars canon but have never been physically visited.  The tone is also implied to be darker than the original, focusing on the isolation experienced by the lone Jedi during the height of the Empire. Without a doubt, fans are excited for the sequel.
5

Final Fantasy VII Rebirth
Final Fantasy VII Rebirth was announced to arrive in the Winter of 2023. It has been all but confirmed that it is the second installment in a planned trilogy of the Final Fantasy VII saga. What makes it fascinating is just how different the FFVII remake trilogy has been compared to the original.
Many elements from the first few acts of Final Fantasy VII have been changed in major ways. Fans are excited to see where these new story elements are taken. Plus, along with Rebirth, Crisis Core Reunion was announced for Winter of this year, so Final Fantasy fans can get a refresher of Zack Fair's story.
4

Hollow Knight: Silksong
After years of delay, Hollow Knight: Silksong finally gets its first fully-fledged announcement trailer, and fans could not be any happier. Many a meme has been made at the expense of Hollow Knight fans hoping for Silksong news at every event, only to be met with its absence.
RELATED: 10 Best Games Like Hollow Knight
Now, the wait is over, and the game is said to be coming out within the next twelve months. The game is a sequel to the first Hollow Knight and now follows Hornet as she explores the new and haunted kingdom of Pharloom. In the inverse of the first game, Hornet proceeds upwards on her journey and must reach a citadel to stop the infection from spreading across the kingdom.
3

Starfield
The Bethesda showcase finally revealed extended gameplay of the long-awaited Starfield, Bethesda's first new IP in over twenty-five years. Set in the far future of 2310, two factions, the United Colonies and Freestar Collective, are embroiled in a war for the fate of the settled systems. The player takes on the role of a space explorer in this brand new galaxy.
Starfield is the end result of over two decades of ideas and development.  Bethesda had always shown great interest in a sci-fi space RPG, but the cards never quite aligned for them until Starfield entered development sometime in 2013. It has a unique "NASA Punk" aesthetic, as lead artist Istvan Pely put it, already makes it a very unique-looking game.
2

Street Fighter 6
Street Fighter 6's first real trailer dropped during Sony's State of Play, and it has fans raving. The series finally returns to the streets, an aesthetic it hasn't embraced since the days of Street Fighter III: 3rd Strike, and there is a whole host of new modes and characters to enjoy. It also revealed that it is set for release sometime in 2023.
The newest trailers confirmed new characters Luke, Jaime, and Kimberly to be among the roster. Meanwhile, World Warriors Ryu, Chun Li, and Guile make a return to the latest game in the franchise. The most fascinating revelation was the introduction of the World Tour mode, a single-player campaign where the players carve out their own legend.
1

Dragon's Dogma 2
Dragon's Dogma 2 is the unexpected sequel to their hack and slash RPG IP. Rumors of a sequel swirled for a while, but it was only now that any concrete confirmation was given. As to be expected, the announcement of the title didn't come with too much information.
When it comes to actual information, there's really none at all. It was simply announced as officially in development. Despite that, the fan feedback has been staggering, and the post-announcement reached over 8,000 upvotes on the r/Games subreddit, which speaks to how dedicated and excited Dragon's Dogma fans are about the game years after release.
NEXT: Every Monster in Dragon's Dogma Netflix, Ranked From Weakest To Most Powerful

Next
Batman: 9 Memes That Perfectly Sum Up The Comic Books

About The Author