Wii U
The Legend of Zelda Fan Art Gives Breath of the Wild a Pixelated Makeover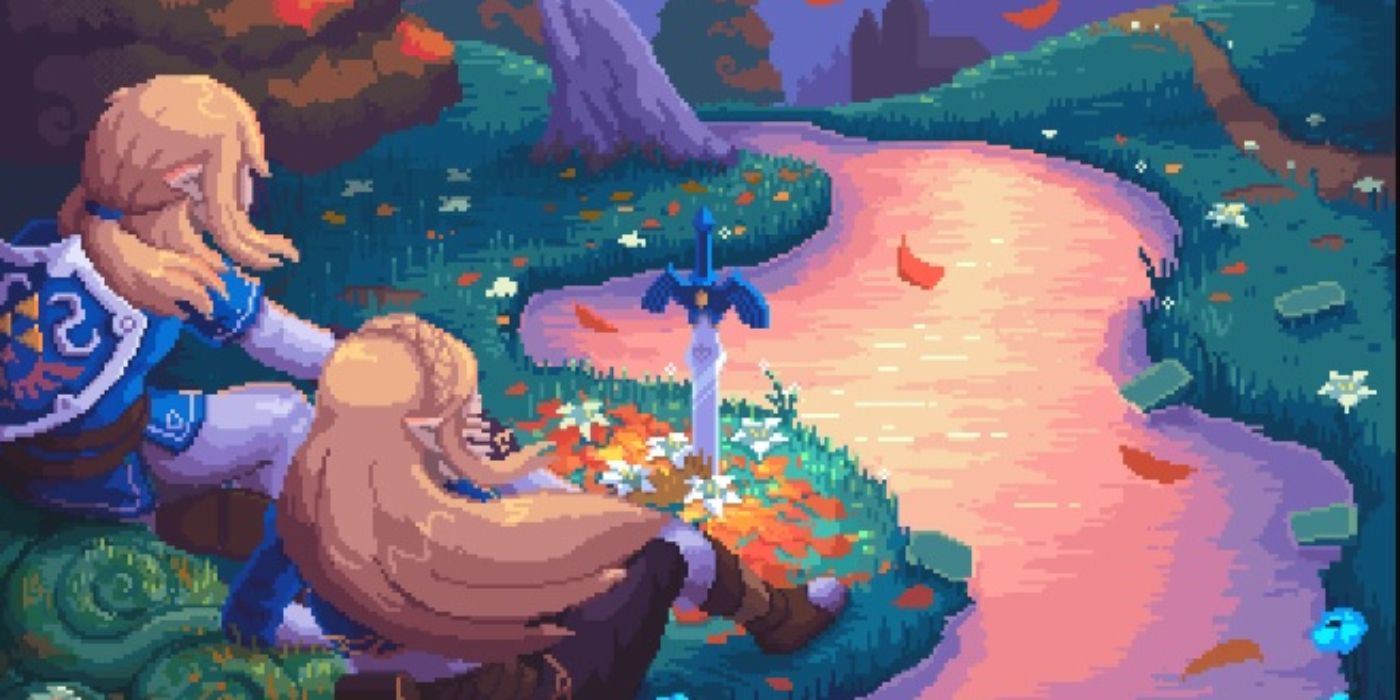 Link and Zelda peacefully watch the sunset in a new piece of The Legend of Zelda: Breath of the Wild fan art that uses a gorgeous pixelated aesthetic.
A stunning new piece of Legend of Zelda fan art sees Breath of the Wild brought to life in the classic, pixel art aesthetic.
Uploaded on Reddit by independent game developer Hector Rivera, who goes by ITZAH, the picture depicts Link and Zelda sitting serenely by a river, watching the sun disappear behind distant mountains. Similar pixel art recreations can be found on the artist's account for other popular video games like Hollow Knight, Pokémon: Emerald, The Legend of Zelda: The Wind Waker and EarthBound.
RELATED: WWE Legend 'Stone Cold' Steve Austin Declares Breath of the Wild the Best Zelda Game
The Legend of Zelda: Breath of the Wild was released in 2017, setting multiple sales records for Nintendo; the game has sold over 26 million copies for the Switch and 1.6 million copies for the Wii U globally. It also went on to win a myriad of prestigious awards in the video game industry, including Game of Year, Best Game Direction and Best Action/Adventure Game at the Game Awards and the Game Innovation category at the BAFTAs in 2017.
Set a century after Ganon decimated Hyrule in an event known as the Great Calamity, Breath of the Wild follows an amnesiac Link who awakens from a healing sleep in the Shrine of Resurrection and must travel the ravaged world in order to recover his memories and free the Divine Beasts from Ganon's influence. Few directions or instructions are given to the player, allowing them to explore the ginormous open world at their own pace.
RELATED: Zelda: Breath of the Wild Voice Actor May Have Revealed a Popular Character's Ancestor
A currently unnamed sequel to Breath of the Wild was announced back in 2019, and following a few delays, the game is scheduled to launch sometime in 2023. "The adventure in this sequel will take place not just on the ground as in the previous game but also in the skies above," Legend of Zelda series producer Eiki Aonuma stated. "However, the expanded world goes beyond that and there will be an even wider variety of features you can enjoy, including new encounters and new gameplay elements."
A short gameplay trailer for the sequel provides viewers a sneak peek of some of Link's newfound powers. These include the ability to phase through walls and use a flame-spitting gauntlet. Moreover, some brief promotional clips tease possible story beats. Most notably, one features Link holding a seemingly decaying Master Sword, and the image has sparked a wave of fan theories and speculation.
The Legend of Zelda: Breath of the Wild is playable on Wii U and the Nintendo Switch.
Source: Reddit