Archive
Blue Archive celebrates its half-year anniversary with the Blue Archive Awards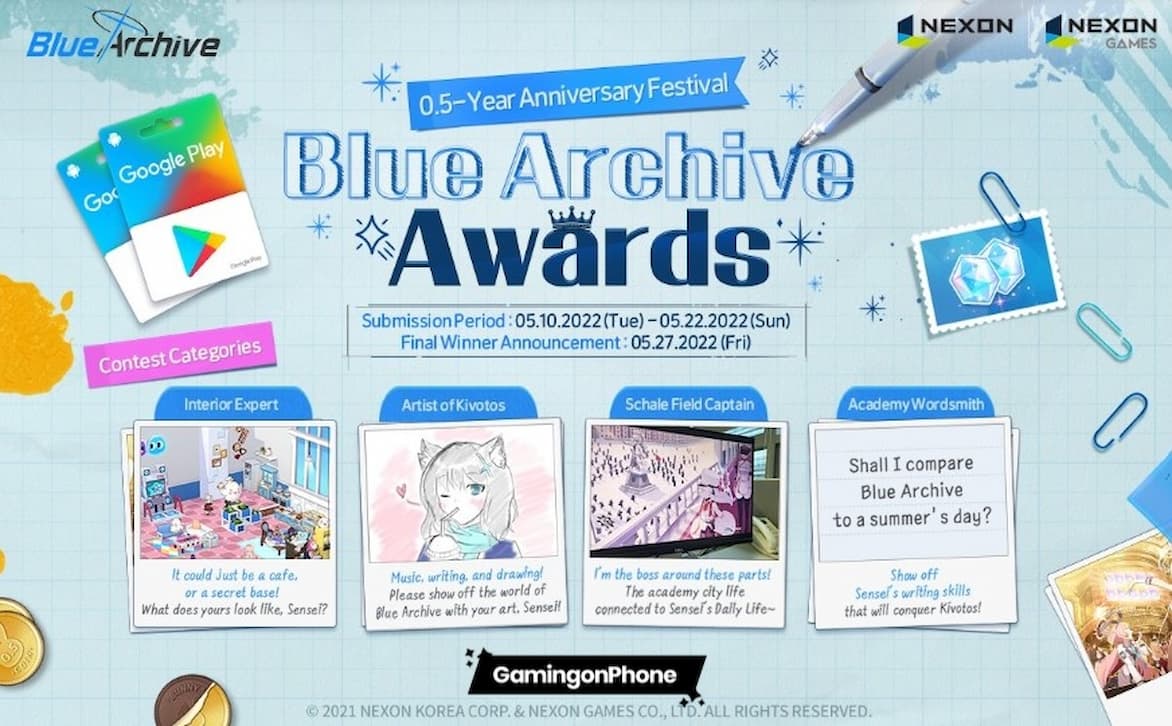 When Blue Archive was released on mobile last year, it rapidly became one of the most popular games among anime RPG lovers. Nexon is now honoring the game's devoted fans with the Blue Archive Awards, a unique half-anniversary event. Players are invited to submit their own unique game experiences for community vote in four distinct categories as part of the celebration. The contest is already open and will close on Sunday, May 22. On May 27, the winners will be revealed.
Get amazing rewards for voting in the Blue Archive Awards
Players are advised to read the submission requirements on the official Blue Archive website before participating. They can contribute to one of four categories, each with its own set of treasured memories to share:
 Interior Expert – Players show off how they decorated the interior of their Schale Café;
 Academy Wordsmith – Players write about their life in Kivotos, sharing how they deeply feel about Blue Archive
 Artist of Kivots – This is all about creating artwork as players submit Blue Archive and 0.5-Year Anniversary-themed writings, artworks, videos, music, or figurines for voting;
Schale Field Captain – Players express how Blue Archive fits in their daily life, sharing how meaningful the game is to them.
The community members are the judges in the Blue Archive Awards, as each player can vote for up to five submissions every day. All players that provide material will receive Pyroxene, the in-game currency. Google Play Gift Cards and other prizes will be given to category winners. When the winners are revealed on Friday, May 27, the winning entries will be displayed on the event website.
Blue Archive is a video game developed by NAT GAMES that follows a group of brave high school girls as they navigate romance, school groups, academic activities, and the occasional conflict with rival schools. Players assume the role of the students' teacher, guiding them on investigations across the city.
Are you excited about the Blue Archive Awards? Let us know in the comments below!
For more Mobile Gaming news and updates, join our WhatsApp group, Telegram Group, or Discord server. Also, follow us on Google News, Instagram, and Twitter for quick updates.