Archive
Kidscreen » Archive » Kidcos map out early metaverse strategies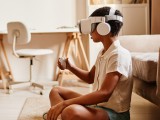 It's more than just a buzzy idea, but far from a concrete space yet. But nevertheless, kidcos are starting to place big bets on the metaverse, with business strategies rooted in the real world and aiming for the pixelated sky.
What is the metaverse? Currently, it's being realized in kids entertainment via social gaming experiences like Roblox, where kids use personalized avatars to play, chat and buy digital stuff. Elsewhere, the metaverse is being activated in virtual real-estate ventures or virtual experiences like Fortnite's Travis Scott concert, which combined a social event with a virtual immersive environment.
This still-undefined form presents both a challenge and an opportunity. On the biggest scale, Meta (formerly Facebook) has pledged US$10 billion to build its own (presumably massive) metaverse. More modestly, Nike's recent partnership with Roblox features an in-game environment where kids can play games and outfit avatars with Nike athletic gear.
From a venture-capitalist perspective, the metaverse is appealing because there are lots of avenues for companies to engage kids in completely new ways. But vague or grandiose plans won't cut it. Metaventures chairman and co-founder Jean-Charles Capelli says his investment firm needs to see three fundamental elements: immediate content plans, a long-term strategy incorporating metaverse-friendly elements like VR or NFTs into existing content, and the legwork to ensure a product will be unique in the marketplace.
Metaventures is focused on expanding its parentco—kids research firm and video game maker Dubit—into the metaverse with new initiatives. It started by raising US$8 million to grow Dubit's Metaverse Gaming League eSports program that lets kids compete in different games on Roblox for prizes. The dual promise of being able to give kids social experiences online—and provide brands with new ways to reach them—attracted investment in the program, explains Capelli.
The pandemic shifted kids' social interactions into the virtual world, accelerating consumer interest in emerging technologies and creating opportunities for companies that focus on creating safe online spaces or are adept at integrating new tech like VR into content, he says.
In the "venture" space, being early can often be the same as being wrong, says Jon Ollwerther, EVP of business development at Genius Brands International and president of its Kartoon Channel! AVOD. Ollwerther, who has worked with venture-backed startups such as drone company Measure, thinks about this often when it comes to the metaverse. There are still questions around whether the metaverse will be widely accessible to a wide variety of children in the same way a mobile game is, for example, or if families will embrace complex virtual tech like NFTs.
But in a way, the metaverse is a combination—or culmination—of all these things, so entry points already exist. LA-based Genius Brands is carving out a strategy based on this insight, building its own metaverse by layering NFTs, games, VR and AR onto its brands with the end goal of creating social experiences driven by its content, says Ollwerther. The company is creating its own branded VR goggles to overcome the barrier of pricey, bulky headsets that aren't approved for kids. And it's creating short two- to three-minute VR videos kids can passively watch, based on brands in its portfolio like Stan Lee's Superhero Kindergarten and Shaq's Garage.
Genius Brands is also exploring kid-safe messaging tools, podcasts and custom emojis to position its new Kartoon Channel! Kidaverse SVOD at the forefront of the first kids metaverse as it emerges, says Ollwerther.
"We won't have any open environments or strangers messaging kids, but there will be digital collectibles and a safe space to give families an easy 'yes' when adopting," says Ollwerther. "This is the next evolution of storytelling, and even after the metaverse fad dies down, these new technologies will become part of the fabric of children's lives."
Johan Sjöberg, CEO of Swedish video game maker Star Stable Entertainment, sees the company's flagship online title, Star Stable Online, as a proto-metaverse. It's an example of what the metaverse could be: a social gaming experience where its eight-to 18-year-old players "horse" around while messaging their friends.
When you have a space like this, which is similar to a Roblox or Minecraft in its open gameplay and ability to interact with others, the core components for success are safety and producing new titles that capture kids' different interests, says Sjöberg.
To become its own metaverse, Star Stable is prioritizing "safe" features—such as AI moderation, in which the system encourages kids to pause before sending negative messages and offers tips for being nice—in order to create a positive experience that keeps users coming back.
Long term, the company plans to make its games available on all mobile devices and even TVs, because a key element of the metaverse is that kids can enter it anytime and anywhere, says Sjöberg. Star Stable is also developing new titles that blend social experiences with niche interests. That approach has worked well for Star Stable Online, which has around 650,000 horse-crazy users living their dreams in the virtual space.
"We will see lots of metaverses launch around special interests," he says. "Companies need to understand that VR and AR, for example, are not a requirement for the metaverse. What you need are games that take kids' interests seriously and create connected online communities."
Toronto-based studio Dark Slope is taking a different approach, shifting its production focus from VR to the metaverse. The metaverse is still five to 10 years away, predicts president Dan Fill. So Dark Slope is starting out by taking what it learned building VR titles such as Slugterra VR and Bogey Ogres to bring currently accessible metaverse elements, like haptic gloves, to kids. VR-based games with fresh and multi-sensory content offer kids the chance to play in virtual spaces before whole worlds are constructed, says Fill.
First up on its slate, Dark Slope is testing an unscripted kids competition series where players navigate an obstacle course wearing VR headsets and gloves. By incorporating animation and VR, Dark Slope can make it look—to both the kids competing in the studio and the audience at home—like the kids are running through fantastical settings like jungles. The animation and VR help the studio capture fresh reactions from the cast that are harder to elicit in typical live-action TV shows, says Fill.
Details about the project are still under wraps, but Fill says Dark Slope sees this blend of gaming, animation, VR and TV production as a way to revitalize traditional unscripted competition formats.
The company is also making new VR games, including a multiplayer title, to meet kids' demand for interactive content. Children crave agency in their content, and that's something the metaverse can deliver, he says.
"'Lean-back TV' is a thing of the past. The promise of the metaverse is that it will give kids control over the entertainment they consume, and because we're working to offer that, buyer and audience reaction to what's coming from us has been very exciting."