Archive
Kidscreen » Archive » Pocket.watch adds 13 new creators to its portfolio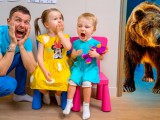 LA-based pocket.watch has partnered with 13 popular YouTube-first creators, with plans to expand their shows into original content beyond YouTube.
The new channels joining the company's roster are Vania Mania Kids (pictured, pretend play), Hudson's Playground (farm-focused outdoor play), Art for Kids Hub (drawing tutorials), Kamdenboy & Kryaboo (pretend play), Scratch Garden (educational videos), Koala & Giraffe (musical and nursery rhyme videos), Doods (3D-animated videos of household items coming to life)
and The Stella Show (kids creating comedy skits).
Pocket.watch is also putting a spotlight on gamers and Roblox-focused creators, adding Mackenzie Turner (vlogger and gamer), ShanePlays (Roblox videos), Denis (Roblox videos), Kaven Adventures (gaming videos) and GEM Sisters (gaming videos) to its lineup of creators.
The new partnerships make pocket.watch one of the industry's largest indie kids and family studios, with more than 15,000 hours of content available for distribution, according to a release.
"Each of these new creators was chosen to join pocket.watch not only because they attract massive audiences of loyal fans, but because they also add diversity of culture, perspective and format [to the company's portfolio]," says company founder and CEO Chris Williams.
Pocket.watch has previously partnered with channels such as Ryan's World (32.5 million subscribers) and Onyx Family (3.5 million subscribers) to expand their content and reach beyond YouTube. It has had the most success with flagship IP Ryan's World, launching Nickelodeon series Ryan's Mystery Playdate in 2019; it has since been renewed for multiple seasons and sold to broadcasters including Clan (Spain), Cartoonito (Italy) and SpaceToon (Middle East).
In addition to turning popular YouTube channels into 360-degree franchises, pocket.watch has established its own in-house video game division, through which it launched the first original mobile game for Amazon Kids+, Super Spy Ryan (also inspired by the Ryan's World brand), in April.