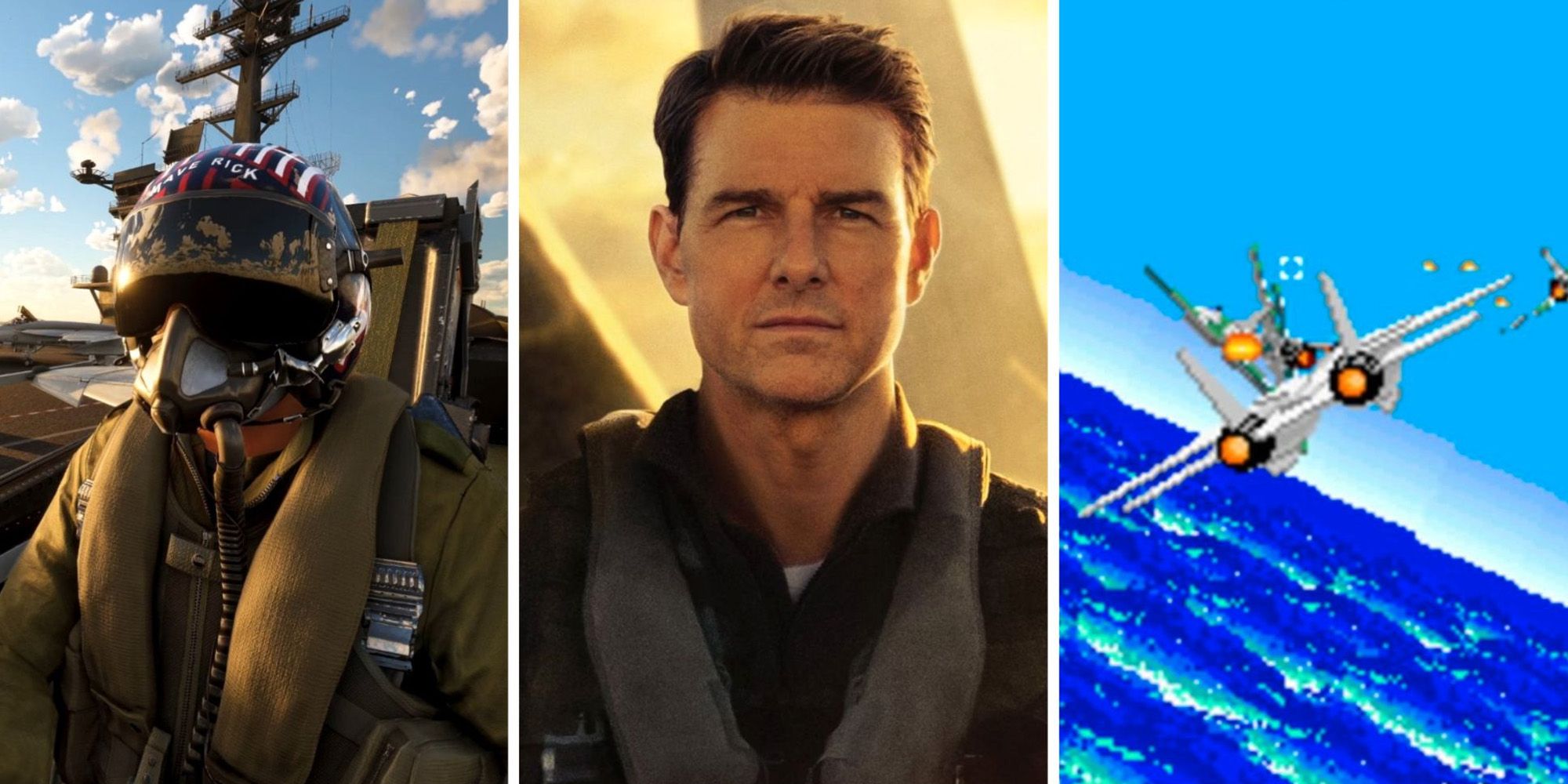 Top Gun: Maverick has proven to be a huge critical and financial success at the box office. Fans of the series have been loving the nostalgic callbacks to the original blockbuster from 1986, as well as discovering how the characters have evolved over the past 36 years.
RELATED: Things We Loved About Top Gun: Maverick
As well as the engaging story, the breathtaking aerial sequences have truly blown away viewers with their incredible realism. So what does the gaming industry have to offer gamers who are fans of Top Gun: Maverick? It's time to feel the need for speed with this list of games.
8

Afterburner
Legendary game designer Yu Suzuki and his team were responsible for some incredible Sega arcade games in the '80s and '90s. Space Harrier, Out Run, and Afterburner are some examples that helped to make Sega a dominant force in this era.
People who were lucky enough to play the original Sega arcade cabinet version of Afterburner in 1987 must have felt like they were starring in Top Gun. The way the cabinet tilted and moved in sync with the player controlling the F14-Tomcat would have been a dream come true for many fans of the movie.
7

U.N. Squadron
Flying a mission behind enemy lines with a limited chance of successfully pulling it off is one of the main themes in Top Gun: Maverick. Side-scrolling shoot 'em up U.N. Squadron from Capcom is the perfect way to recreate the feeling of facing a hugely superior force.
Based on the Japanese Manga series Area 88, U.N. Squadron features different hotshot pilots and aircraft, as well as some excellent arcade action. The SNES version, in particular, is well worth playing to experience the superb music and nice uses of Mode 7 graphics. It's worth noting the home computer conversion box art for U.N. Squadron featured an image likeness that could be mistaken for Tom Cruise.
6

Desert Strike
Although players aren't flying jets in Desert Strike, some missions involve rescuing downed pilots in this isometric classic. Managing resources is a key component of Desert Strike as the player has to keep an eye on their fuel, and how much ammunition they have left for each weapon.
The two sequels, Jungle Strike and Urban Strike, expanded on the series by allowing the player to pilot different vehicles during the missions. The transition from 16-bit to 32-bit systems didn't fare as well for the Strike series, with Soviet Strike and Nuclear Strike receiving mixed reviews. As such, there haven't been any new entries in this series since 1997.
5

Super Hang-On
Tom Cruise speeding on a motorcycle alongside fighter jets is an iconic image from Top Gun and Maverick. There aren't many better ways to relive this movie experience other than playing Super Hang-On.
RELATED: The Best Yu Suzuki Games, Ranked
Super Hang-On is another game from Sega and Yu Suzuki which featured an elaborate arcade version that allowed players to sit on a simulated motorcycle. Several classic Sega arcade games including Out Run and Super Hang-On can be played in Yakuza 0, Yakuza 6, and Fist of the North Star: Lost Paradise.
4

Ace Combat 7: Skies Unknown
The Ace Combat series is arguably the modern-day version of the Sega classic Afterburner. The latest entry Ace Combat 7: Skies Unknown builds on the success of the series featuring superb graphics, excellent gameplay, and separate VR missions which are enough to test the toughest pilots.
To tie in with the release of the movie there is now the Top Gun: Maverick DLC for fans to play. This features new planes which appear in the film, emblems, skins, nicknames, and an instrumental version of "Danger Zone".
3

Microsoft Flight Simulator
Fans who favor a more realistic chance to relive their Top Gun: Maverick fantasies can do so with the free expansion to Microsoft Flight Simulator. Featuring all-new missions and challenges including landing on a carrier deck, this expansion will push players to the limit as they master the complexities of piloting a F/A-18E Super Hornet.
RELATED: Flight Simulator's Top Gun: Maverick Update Explained
Microsoft Flight Simulator and its Top Gun: Maverick expansion are free for PC and Xbox gamers who have Game Pass, so now is the perfect chance to take to the skies.
2

Olympic Games Tokyo 2020
The original beach volleyball sequence in Top Gun reached legendary cinematic status when it was first witnessed in 1986. The fact that Top Gun: Maverick revisited the scene (adding a slight twist) to show a new team of pilots bonding, demonstrates how much it means to the makers of the movie.
RELATED: Every Piece Of Video Game Music That Featured In The Tokyo 2020 Olympics Opening Ceremony Parade
This list wouldn't be complete without a beach volleyball game, which is why Olympic Games Tokyo 2020 works so well. There are 17 other sports to try in Olympic Games Tokyo 2020, so there is plenty of variety once players have had their beach volleyball fix to match the movie.
1

Let's Sing
Music features heavily in Top Gun and Top Gun: Maverick. "Danger Zone" by Kenny Loggins, "Take My Breath Away" from Berlin, "You've Lost That Lovin' Feelin'" by The Righteous Brothers, and even "Great Balls Of Fire" by Jerry Lee Lewis are etched into the brains of fans of the series.
These songs have become synonymous with the movies, so the Let's Sing series is a great way for budding singers to create their own musical memories. Thankfully there is no need to buy expensive accessories as a microphone app can be downloaded for free.