Latest News
Albany Man is rewinding time to bring video stores back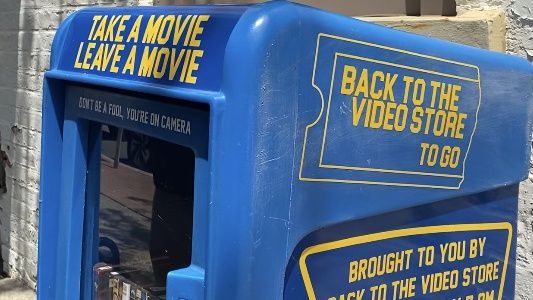 The nostalgia of childhood can be found in every corner of Brett Glasser's home.
"You can have these video games that make you feel like you're in everyday life- but I still want to go back to that 8 Bit, 32 bit era," Glasser says as he plays a retro video game console.
The passion for the silver screen living on in his home, as it did back he was a kid.
"I think I rented Halloween like 50 times when i was able to get my hands on it," he recalls going through his movie collection.
It all started back in the 80s at the video store, which survived trough the switch from VHS to video games to DVDS.
"And then once you started going past the new releases- and you find these really weird 70s and 60s movies I think from there, it just kind of started snowballing," he recalled.
But while the era video stores have long since dwindled, streaming services have taken over as common place. Currently, Netflix having more than 221 million users. And while there's now an unlimited number of movies and shows right at your finger tips, Glasser says the younger generation doesn't realize what life was like before streaming.
"Even kids now at 15-20 years, the concept of rewinding a tape is so foreign to them," he said.
Since his days growing up visiting the video store, his passion and collection has only grown. This is why he's now working to bring the video store "Back to the Future."
"These movies have kind of like all become part of my personality. You don't really think about movies having that type of power- but as I got older, I realized my sensibilities, my humor have all," says Glasser.
Glasser is rewinding time to bring the video store back to life. He created video bins designed to represent classic flicks and echo Blockbuster's old signature logo. He stocks with feature films his own collection.
It was the perfect match, when Brett connected with the owners of Cheesecake Machismo for his project in Albany. Bam Lynch is the co-owner of Cheesecake Machismo and says the inside of the shop reflects Glasser's mission.
"We love pop culture. That's why the whole place is filled with pee-wee Herman's and Godzilla and Frankenstein," Lynch gestures around the popular shop. "I go out there and grab movies sometimes too.. especially the monster movies that I love."
It works just like the video store he has known and loved, where people can browse through the collection in person. The biggest difference is, this time, it's free. It works as a honor system, take one and leave one.
"Not everyone is privileged enough to have six different streaming services all at the same time. So having a few different locations around the city where it'll get restocked you can go in and find some new DVDs. That may be someone's only way to finding new media," Glasser added.
So, far they have given out more than 2,500 copies of movies. Brett is taking donations to help keep the bins stocked.
I wanted to bring the video store back to life I wanted to bring it back from the dead was the initial motive for doing it. As we started doing it and as we started to see the community respond more positively that's where it started clicking, that it's not just some nostalgic thing for some folks," continues Glasser.
There are currently two video bin sites one we saw in front of cheese cake machismo and also one right in the lobby of the pearl theatre. Brett is currently taking donations for those who want to donate to the bins. Those interested in donating can email Brett at Backtothevideostore@yahoo.com or follow his Facebook page.