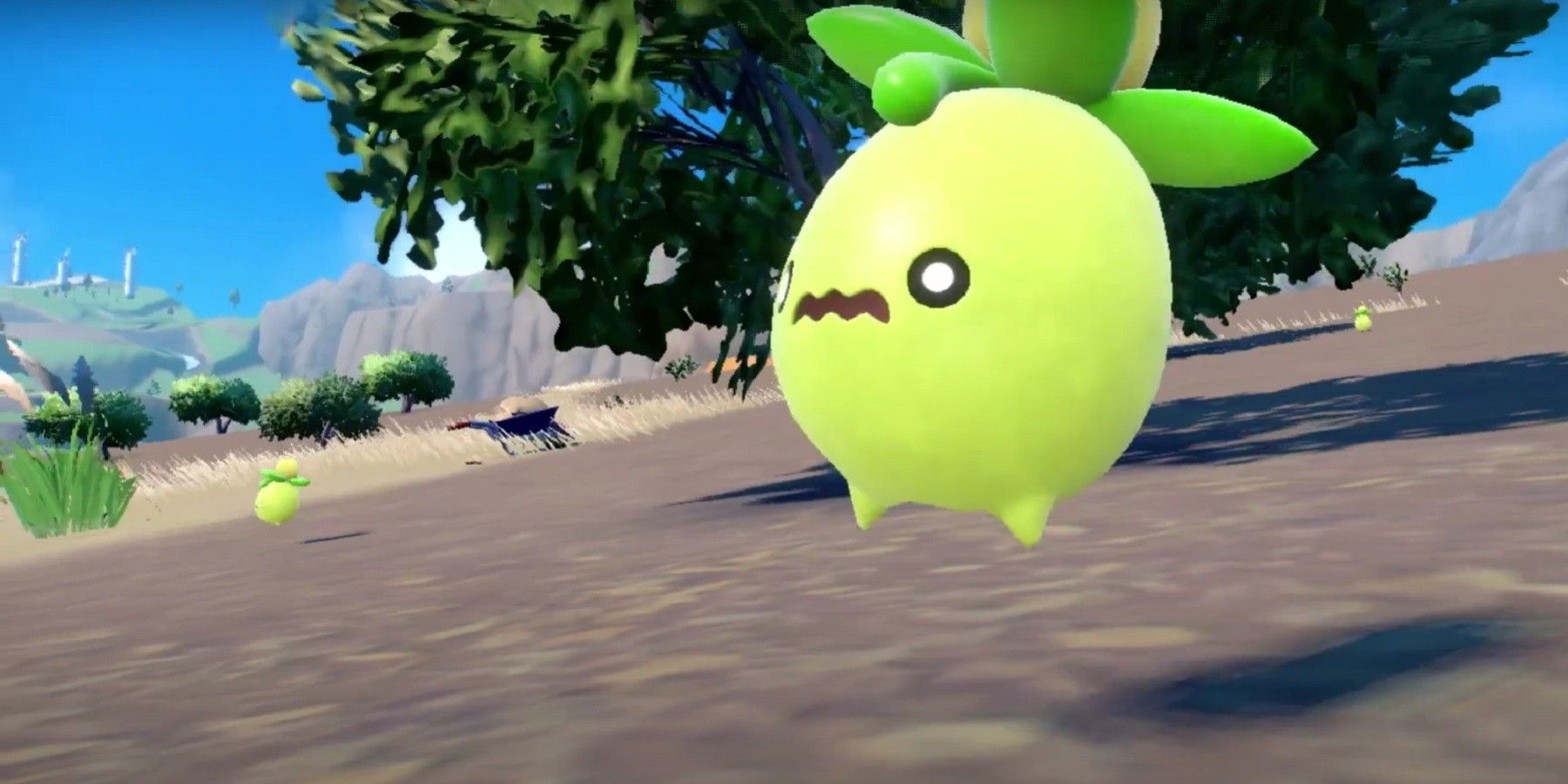 Pokemon fans continue creating crafts and fan art dedicated to Pokemon Scarlet and Violet, including one that reimagines Smoliv as martinis.
Nintendo and Game Freak first revealed Pokemon Scarlet and Violet back in February, and since then, more Pokemon were confirmed in a trailer that debuted in June. Recently, one Pokemon fan has created unique martinis in celebration of one of the new Pokemon shown off in the second trailer for Pokemon Scarlet and Violet, Smoliv.
Reddit user Miscellaneousmao recently shared a clip of their martinis influenced by the small Pokemon called Smoliv. Smoliv was confirmed in Pokemon Scarlet and Violet's second trailer alongside Lechonk and Pawmi, joining the already unveiled lineup that centers on the starter Pokemon Fuecoco, Quaxly, and Sprigatito. Each of the Pokemon displayed in the upcoming games so far has garnered the attention of the Pokemon community, but Smoliv won the heart of Miscellaneousmao.
RELATED: Pokemon Fans Discover a 'Turo' in Pokemon Colosseum
Miscellaneousmao's video begins by showing fans the finished Smoliv martini Pokemon product, complete with a stirrer and peeled lemon skin on the rim. The clip quickly transitions to the Pokemon fan creating the Smoliv figure used in the bottom of the martini glass by using the flour-like tangyuan to mold the small creature as someone baking a Pokemon cake may use modeling chocolate or fondant to handcraft similar objects. The white material is colored green, and small features are added to the Smoliv to reflect the Pokemon Scarlet and Violet creature accurately as green leaves are placed atop its head and a small face is meticulously made.
The Smoliv Pokemon martini clip continues with Miscellaneousmao placing the Smoliv in a pot of boiling water after the details are added until its features become more noticeable as its mouth opens and tears grow out of its eyes. Miscellaneousmao then puts a skewer through the adorable Smoliv martini olive replacement in an attempt to effectively resemble any other martini, but with a Pokemon twist. While crafting this Smoliv martini, Miscellaneousmao also casually highlights their impressive fingernails that are painted to look like Poke Balls which they did themselves.
Although Miscellaneousmao's Smoliv martini is non-alcoholic given their personal preference, other Pokemon fans have praised their use of honey and lemon water, making the drink family-friendly. While a few Pokemon Scarlet and Violet fans lamented the puncture of Smoliv in their martini clip, Miscellaneousmao swiftly joked that Officer Jenny from the Pokemon anime had nothing to see with their creation. Smoliv may have only been teased as a trainable Pokemon in Pokemon Scarlet and Violet, but given the Pokemon universe's history with eating Pokemon products, Smoliv martinis may appear in the upcoming Nintendo Switch game.
Pokemon Scarlet and Violet release for Nintendo Switch on November 18.
MORE: Why Pokemon Scarlet and Violet are Unlikely to Feature a New Type