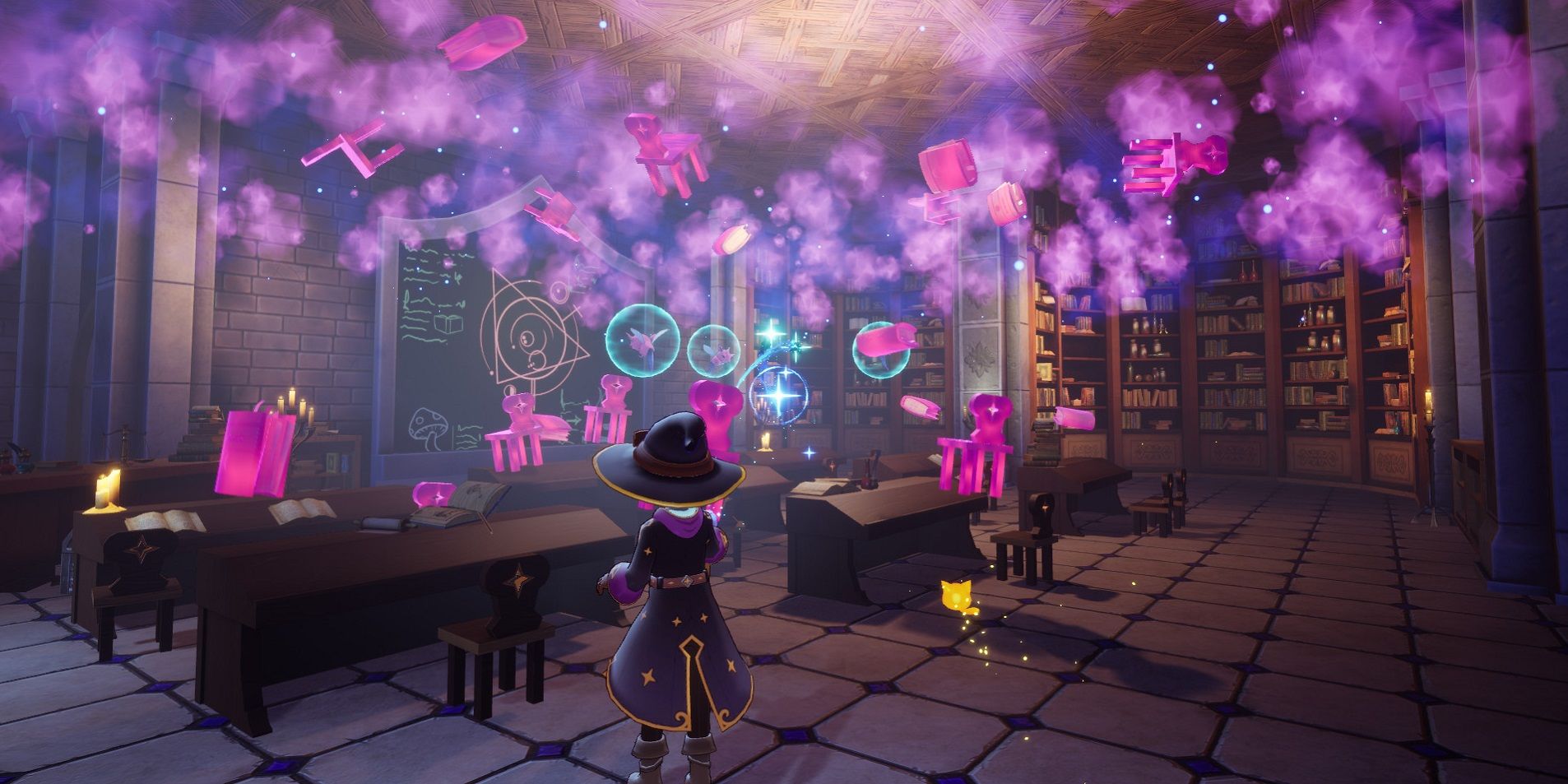 There are plenty of indie life and farming simulators, including these, all of which let players take on the role of a cute, wholesome witch.
Indie games offer an array of accessible and diverse game options for all types of players, letting them step into the shoes of characters ranging from the galaxy's hero to a cute witch like in Little Witch in the Woods. Indie developers are able to reach an audience that would have been unobtainable before platforms like Steam and the massive-bundle-producing itch.io gave them the chance to sell their work, and Steam Early Access has offered new ways to fund a game's development. There are plenty of games for players who want to relax and unwind from the stress of life by living out a simpler, more wholesome fantasy, including a recent trend of cute games about witches and magic.
Indie games are more widely available than ever before, creating unique games that large publishers and developers might not be willing to take a chance on. While the variety of games means there's something for everybody, it can be difficult to sift through everything available, and specific niches can help alleviate this issue. That said, it's not likely that anyone suspected that "cute witch games" would become a thing, but with the popularity of titles like Stardew Valley and other life sims, sprinkling a little extra magic into the mix was likely an inevitability.
Related: Little Witch in the Woods: How to Get a Broom
Magic in games isn't new, but these are games that show it doesn't need to be limited to combat. There are indie titles that combine the lighthearted nature of farming sims such as Stardew Valley or Harvest Moon, with the fun of beneficial magic that can be used to water crops or help with cleaning. This means that players can live out a fantasy life in a charming location as a cute witch, replete with the tropes of wholesome wizardry like interesting foods and cute cat familiars.
The Adorable Witch Game Witchbrook Is Still Alive
Witchbrook puts players in the shoes of a witch who has moved to Mossport and enrolled at Witchbrook College as a witch-in-training. Players can make friends, explore the town, and participant extra-curricular activities as they work towards graduating to become a full-fledged witch. Graduating isn't the end of the game either, as players can continue on their magical journey by becoming a resident witch in Mossport. Though it's not yet released, Chucklefish's magical simulation game Witchbrook is now available to add to Steam Wishlists.
Sun Haven Offers The Pursuit Of Magic
While playing as a witch isn't the only option, Sun Haven does allow players to learn magic that they can use to complete tasks like watering their plants, and to defeat monsters, of course. Sun Haven takes place in a medieval town, and the player can help restore that town to its former glory by farming, restoring shops, and getting new people to move in. Though the game contains combat, players don't need to take up a sword and fight. The game can be completed without violence, and players can live as a witch who uses their spells for farming and mining instead. This Steam Early Access title combines D&D-style fantasy with Stardew Valley.
Kitori Academy Gives Cats To Cute Witches
Another game that's not yet released but is ready to be added to Steam wishlists is Kitori Academy. Kitori Academy is a blend of a farming simulator and life simulator with the added bonus of magic. If magic isn't enough of a selling point, Kitori Academy also includes a spirit companion for the player that is a customizable cat that players can pet and play with to form a bond. Amidst the fun of life at a magical academy, players can use their skills to face the curse that targets the innocent, and the cat familiars add a different twist from many of its peers.
Become A Magical Apprentice With Little Witch In The Woods
Like Kitori Academy, Little Witch in the Woods allows players to befriend cats as they pursue their magical journey with a Stardew Valley atmosphere. Another Steam Early Access game, Little Witch in the Woods has not yet reached full release, which means that content will continue to be added and there may be bugs or glitches that need to be fixed.
Related: Will Coral Island Be More Like Animal Crossing Or Stardew Valley
But players don't need to step into the role of Ellie, an apprentice witch, without help. There are Little Witch in the Woods beginner's guides and tips and tricks available online. Ellie has already won over the hearts of gamers, however, as Little Witch in the Woods has positive reviews on Steam, despite its Steam Early Access status, with player describing it as charming and cozy.
Play As A Cute Cat Witch In Flying Neko Delivery
Flying Neko Delivery takes inspiration from the movie Kiki's Delivery Service and puts players in the role of the cat witch, Onigiri, to deliver packages on a flying broomstick. Flying to complete deliveries isn't the only thing players can do. Flying Neko Delivery includes exploring, meeting villagers, and customizing their own cottage. While the game isn't released yet, there is a demo available on Steam, and it appears to have gameplay elements similar to the life simulator Animal Crossing: New Horizons with the inclusion of foraging for items, designing a home, and mingling with villagers.
Life and farming simulators don't suit the tastes of every player, but there are a significant number of people who enjoy them. There's a lovely simplicity in their gameplay, and the fulfillment of easy tasks keeps the serotonin flowing. While a few of the big publishers contribute to these game types, like Nintendo with Animal Crossing, indie developers are responsible for many simulator titles, and they often add unique elements to their games, like being able to play as a cute witch instead of just a normal person. Indie games releasing in 2022 have a lot to offer, and Flying Neko Delivery is confirmed for a 2022 release as well. Video games let players escape the stress of their lives, and there's no reason for them to not play as a cute witch in a cozy game setting, especially when that setting includes a cat as a companion given that they're traditional familiars for witches. Having given witches a simple life like in Little Witch in the Woods, indie games could turn to other supernatural creatures – maybe a wholesome werewolf life sim is next!
Next: Stardew Valley and Haunted Chocolatier Could Be Set In The Same Universe
Wordle 357: June 11, 2022 Hints & Answer
About The Author