Nintendo Switch
Sailor Moon Transforms Your Phone and Nintendo Switch With New Casetify Collab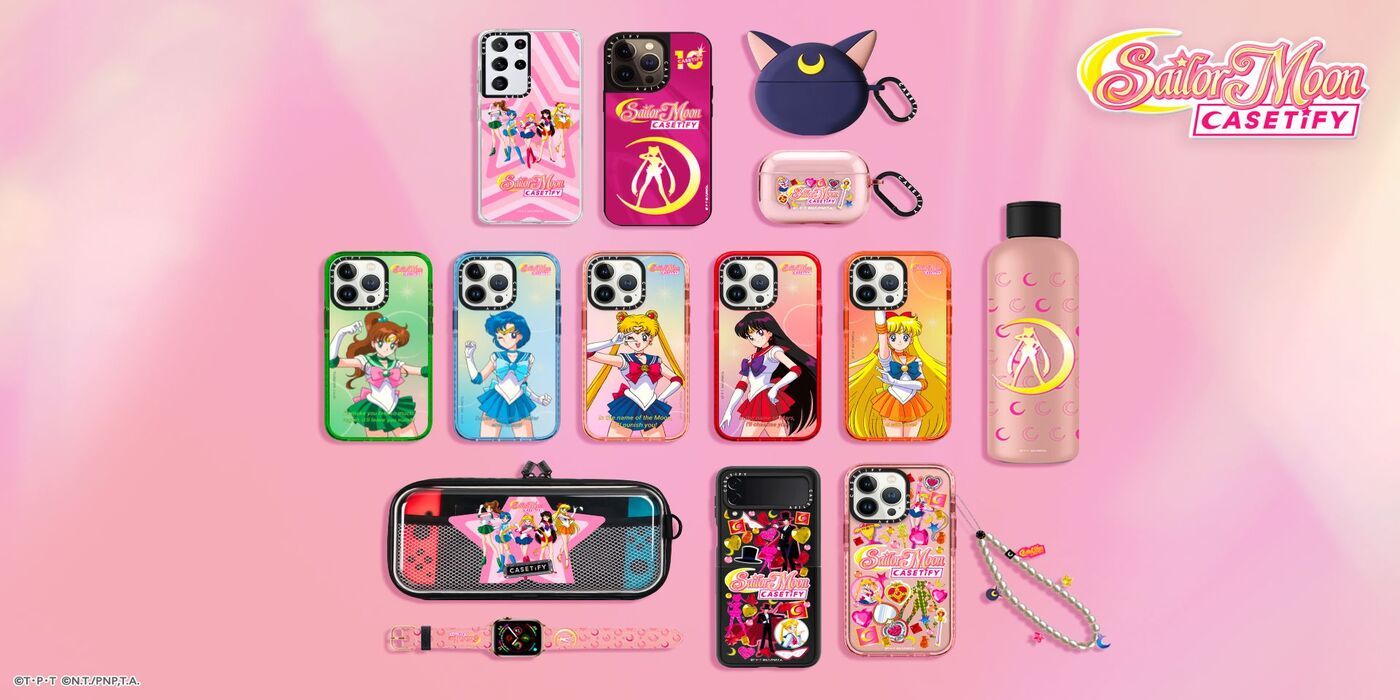 Sailor Moon fans can soon decorate their tech with a new line of Sailor Moon-themed accessories from CASETiFY, including a Nintendo Switch case.
The Hong-Kong based tech accessory company CASETiFY is releasing its first-ever line of Sailor Moon-themed accessories.
As detailed on CASETiFY's official website, which ships worldwide, this new line of products will be officially launched on June 30 and includes a phone charm, AirPod cases, an Apple Watch wristband, a water bottle, several smartphone cases and a Nintendo Switch case. The prices for the items in the accessory line currently range from $25-$75 USD, although these rates may be subject to change. Currently, the promotional page for the collection also features a Sailor Moon trivia quiz.
Related: Sailor Moon Creator Gathers The Entire Senshi Team for Stunning Anniversary Art
In this new collection, Sailor Moon, Sailor Mercury, Sailor Mars, Sailor Jupiter and Sailor Venus each have their own smartphone case featuring both them and their catchphrase. These cases all cost between $60-$65 USD. The "Sailor Guardians Case" features all five of the iconic anime heroines together. There are also two different "Stickermania" smartphone cases, one themed after Sailor Moon herself and one themed after Tuxedo Mask. One of the smartphone cases, called the "Sailor Moon Pink Mirror Case" is an app-exclusive product that can be purchased early through CASETiFY's Co-Lab app for $70 USD.
A particularly unique item in the collection is the Luna 3D AirPods Pro Case, which is one of the few items that incorporates Luna, Sailor Moon's black guardian cat and mentor figure. The case is shaped like Luna's head and costs $45 USD. In addition, there is a smaller AirPods Pro Case with a similar design to the "Stickermania" smartphone cases.
RELATED: Sailor Moon: How The Sailor Stars Arc Changed With The Anime
The Sailor Moon Pearl Bead phone charm in this collection is decorated with Luna, star and moon shaped charms. The Sailor Moon water bottle, which features a silhouetted image of Sailor Moon doing her signature pose in front of a crescent moon, holds around 770 ml of liquid, and the Apple Watch band features the same design. The "Sailor Guardian" Nintendo Switch Case features all the Sailor Scouts together using the same design as the "Sailor Guardians" smartphone case.
CASETiFY is known for producing highly-durable products using more sustainable methods. Materials the company uses include old phone cases, manufacturing scraps and plant-derived bio-plastics. CASETiFY has also produced accessory lines based on other iconic franchises, such as Harry Potter and Star Wars, and also offers custom smartphone cases.
Source: CASETiFY