Out Now
Monster Hunter Rise: Sunbreak demo incoming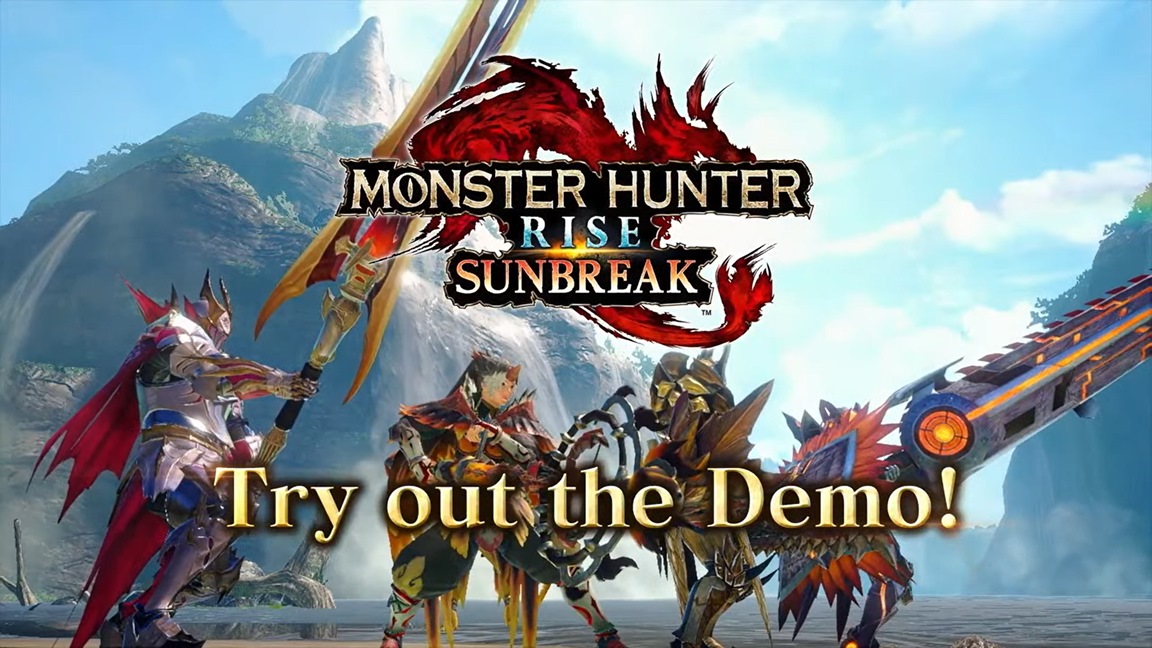 Capcom just announced that Monster Hunter Rise: Sunbreak is getting a demo. It'll be available worldwide on June 14, 2022.
In the demo, players can explore the "Jungle" locale and take on Astalos. It also features the new "Switch Skill Swap" system plus new "Skillbind Attacks". A few tutorial quests are included for new players that teach basic mechanics and moves. Additionally, an "advanced" quest is available for veteran hunters where they can take on an extra challenging version of Malzeno, the flagship monster for Sunbreak.
The demo has multiplayer support for up to four players. Additionally, there's no limit on number of times you can attempt quests.
Outside of the demo, Capcom debuted a new trailer for Monster Hunter Rise: Sunbreak. Give it a look below.
Finally, here's a bunch of information Capcom put out today:
The Jungle area from the second generation of Monster Hunter games swings into the hunt! Now in Sunbreak, you'll be able to venture your way through the region's scenic sandy shoreline, all the way to the lush and dense greenery that challenging monsters call home.

Exciting hunts await you in the Jungle, featuring veteran monsters and fresh faces. Speaking of monsters…

We've already revealed a few monsters coming in Monster Hunter Rise: Sunbreak, but of course there's still plenty more to share. How about we start with a highly requested (and VERY exciting) fan favorite?

Say hello to the flagship monster from Monster Hunter 4 Ultimate, Gore Magala! There's a lot of you experienced hunters out there who have been asking for Gore Magala's return, so hopefully this reveal had you on the edge of your seat. This sinister six-limbed blind wyvern brings its signature Frenzy Virus to the battle, marked by the black and purple mist it scatters.

Espinas, the Thorn Wyvern, makes its grand return to the series. For many this might be your first introduction to Espinas since it's only appeared in Monster Hunter Frontier. Its signature venomous pink horn at the front of its head poses a serious threat. And if that wasn't enough, Espinas can unleash powerful toxic fireballs. It may look threatening at a glance, but this monster loves getting its beauty sleep and hitting snooze – absorbing a few attacks before finally waking up.

Is that some kind of cave demon? Nope! Turns out, Shogun Ceanataur isn't the only carapaceon coming to Monster Hunter Rise: Sunbreak. Today we revealed a small look at the returning Daimyo Hermitaur. Your attacks will be useless when it uses its massive claws to form a tough shield. Those claws aren't just for defense, either – they could rip a hunter apart! Concentrate, and focus on your hunting techniques with this one…

Eagle eyed hunters might have had suspicions that a new Rakna-Kadaki subspecies was discovered. We're excited to finally share the details. Meet Pyre Rakna-Kadaki, a fiery subspecies that turns up the heat with flame infused silk strands and, of course, superheated Rachnoid.
Monster Hunter Rise: Sunbreak drops for Switch on June 30, 2022.
Related