Retro
Is Nintendo Switch Online worth it in 2022?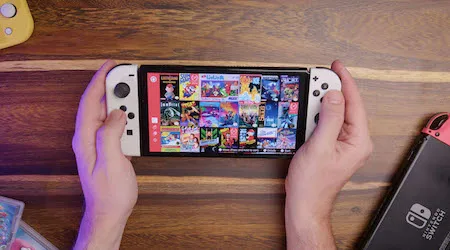 It's a necessity if you want to play multiplayer games online but are you really getting your money's worth?
Nintendo Switch Online is a mishmash of little features that promise to enhance your Nintendo Switch experience for a yearly, quarterly or monthly fee.
Here's what you get.
Access to online play.
You pay Nintendo a fee for the privilege of playing their games over the internet.
Before 2018 Nintendo just gave you this for free but it seems they saw Sony and Microsoft charging for the same thing so they joined in the scheme.
One thing they didn't copy though… It being particularly good.
4 years on and Nintendo's online infrastructure is still not great, with noticeably frequent crashes and lag, even on good internet connections. On top of that the friends and chat functionality is archaic and stripped back compared to the social features that have been available on Xbox and PlayStation for over a decade. The result is it feels less like an online service and more like a road toll.
The smart phone app.
This app serves two purposes. The first is a voice chat feature but in order to use it you need to be connected to the app, be in one of the 4 supported games, be in a specific game mode AND connect at the same time your friends do. Good luck with that.
This just does not take into account how friends actually game together. Sometimes people drop out or go play something else but you still want to be on a call together. Just use discord.
Second, the app has specific features for Splatoon 2, Super Smash Bros Ultimate and Animal Crossing: New Horizons. The animal crossing app is pretty useful, allowing you to check on the game world and even collect bells within the app itself.
Unfortunately that same utility can't be found for the Splatoon or Smash Bros sections, rather just showing you news about game updates for either title. If you're not using this app for Animal Crossing it will most likely be completely useless to you.
Cloud saves.
This lets you back up and access your saves anywhere, which is great if you've lost your Switch or upgrade to the new OLED. Your save games will still be safe and easy to transfer over to the new system.
There's some fine print though – Here's all 136 games that do not use it. This includes some of the best-selling titles on the system such as Splatoon, Minecraft and every single Pokemon game.
Nintendo say these games aren't compatible with cloud saves to limit cheating. You potentially could roll back to an old save after you've sold or traded an in game item online.
Naughty. This is a weak excuse however. Many games on other platforms already have an automatic cloud save feature to prevent just these kinds of shenanigans from occurring but it seems Nintendo have got the memo.
It's not all bad news however, Pokemon fans can opt in to yet another separate subscription service to store their digital monsters in the cloud. Isn't that nice of them.
The NES and SNES library.
Ok now we're getting to the good stuff. You get access to a library of over 100 (and growing) classic NES and SNES games.
They come in two separate little apps that download to your Switch, and upon opening them you're greeted with a spread of original retro box art. Click on one and you are instantly transported back to the early 90s. For retro fans, this is glorious.
It's a good selection of games too, with most fan favourites we all know but it also has a few lesser known hidden gems.
All of the games get extra features like the ability to rewind and quicksaves, which is a literal life saver in some of these notoriously hard classics. Some also gain online multiplayer, and a few even come with specially edited versions like a Legend of Zelda that starts with all items unlocked.
Whether or not this is worth it is entirely based on how much you actually care about retro games. Some modern gamers may be put off by the dated designs and unrefined gameplay (no matter how revered they were 30 years ago) but for people who haven't played these games or younger gamers, you're treated to a pretty amazing history lesson, all with some modern luxuries built on top.
Special Offers
Finally is a catch-all for any "extras" Nintendo feels like passing onto their subscribers. Right now this includes the privilege of being able to buy old controllers that work with Switch such as the N64 controller, and access to some wacky retro battle royale games like PAC MAN 99 and Tetris 99.
The battle royale games sound terrible on paper but upon playing them you'd be surprised just how fun and addictive they are, personally I would pay a $30 subscription just for that. At least for a year.
It would be nice to buy these separately but these games need the online access anyway so they're essentially free add ons.
Is it worth it?
Understanding if this subscription service is worth it basically boils down to how and how much you play on your Switch.
For Online multiplayer gamers it's very clear this service will be worth it to you.
You have to pay for it to play online. All the other inclusions are just kind of a bonus.
For Heavy Nintendo Switch users – if you really care about your progress and want it to be safe, this will be worth it to you as well. Cloud saves make for excellent insurance against theft, damage or loss of your Switch but remember to check if your favorite games actually back up to the cloud before you subscribe.
For families with young kids or who just use this as a casual couch multiplayer sort of device, I would recommend avoiding this service altogether. Even if it's pretty cheap you're just not going to get your money's worth that often.
You may find a lot of value in the retro libraries though. Maybe you want to revisit old classics or show your kids how much harder you had it. This may not keep you occupied for a full year, however. If you're purchasing it just for the retro games, perhaps consider the one or 3 month options, play everything you want and then move on. It'll be a lot cheaper for you in the long run.
---