Reviews
'Arkanoid – Eternal Battle' Hits Switch This October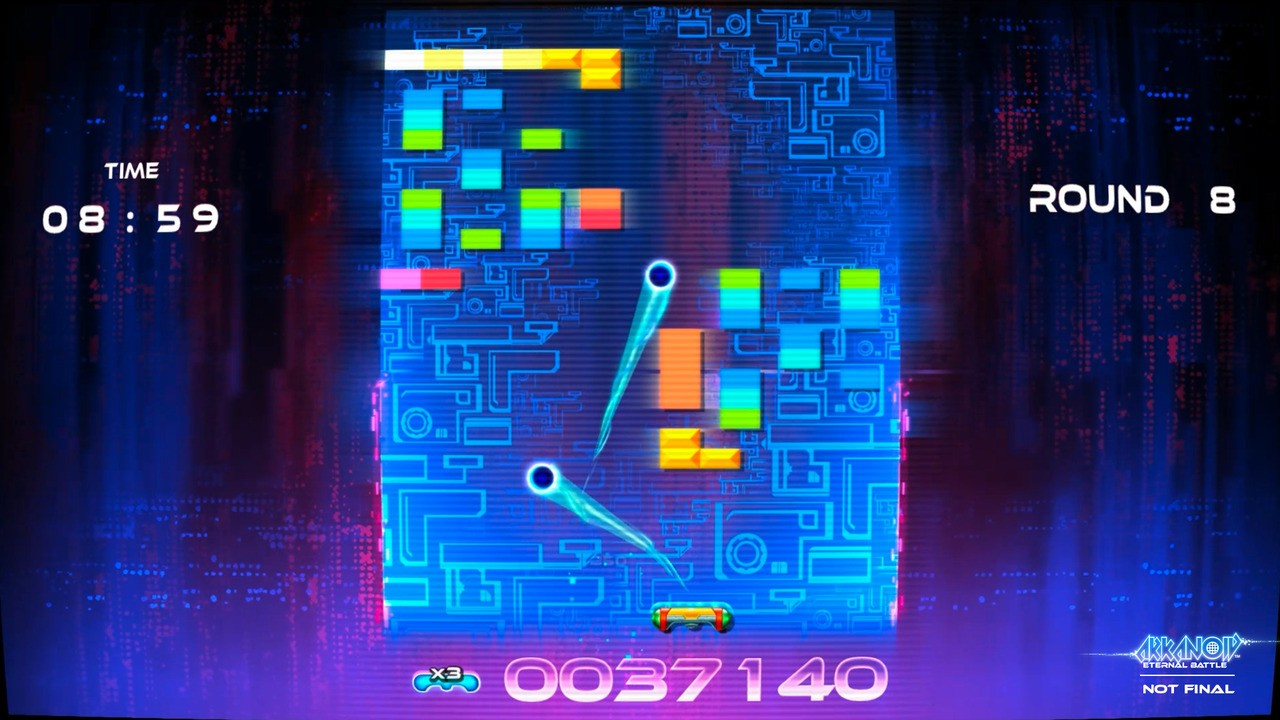 French publisher Microids has shown off gameplay footage of Pastagames' upcoming Arkanoid – Eternal Battle, which takes Taito's coin-op classic and transforms it into a cross-play online multiplayer Battle Royale.
The game is confirmed as coming to Switch – as well as PlayStation 5, PlayStation 4, Xbox One, Xbox Series X|S and PC – this October.
Here's some PR:
+ Arkanoid – Eternal Battle marks the return of the emblematic block breaker game in a surprising, renewed version.
+ Retro: Teleport yourself in an old school arcade parlor back in 1986 and enjoy the original game like if you were there!
+ Neo: This solo mode expands on the classic gameplay with brand-new levels, a modern and stylish art direction & sounds as well as new unique blocks, bonuses and effects!
+ Versus: Play locally with 2 to 4 players on the same screen!
+ Eternal Battle: For the very first time, 25 players can challenge each other online in an exclusive Battle Royale mode! Use your power ups to gain advantage and aim at the top score to be the last one standing and win the game!
Game Features:

+ 4 game modes to (re)discover the famous block breaker game, alone or with friends: Revisit the original game as if you were in the mid 80's arcades with the retro mode, discover the modernized Neo mode and its exclusive levels, challenge your friends locally on the same screen or play against the entire world in a 25-player Battle Royale craziness with the Eternal Battle mode!
+ Brand new content: On top of the brand-new game modes, players will discover or be reintroduced to the emblematic block breaker game in a fully modernized version. Arkanoid – Eternal Battle will of course feature classic elements from the franchise as well as new effects, bonuses and features guaranteed to take veteran players by surprise!
+ An adaptive original soundtrack: Composed by Xavier Thiry (Pang Adventures, Homo Machina, Labyrinth City), the game score will take you on a synth-wave journey like no other where the rhythm and intensity will go crescendo as your combo meter goes up!
+ Cross-Play: This feature will allow players to battle against everyone, whether they play on PC or consoles.
+ Online leaderboard: Available for both Neo and retro modes, the online leaderboard will go live at launch! The Battle Royale mode will also keep competitive players on their toes with monthly updated score types… The high score madness is for sure making a comeback!