This Week
Best Video Game Trilogies On PC To Prep For Steam Summer Sale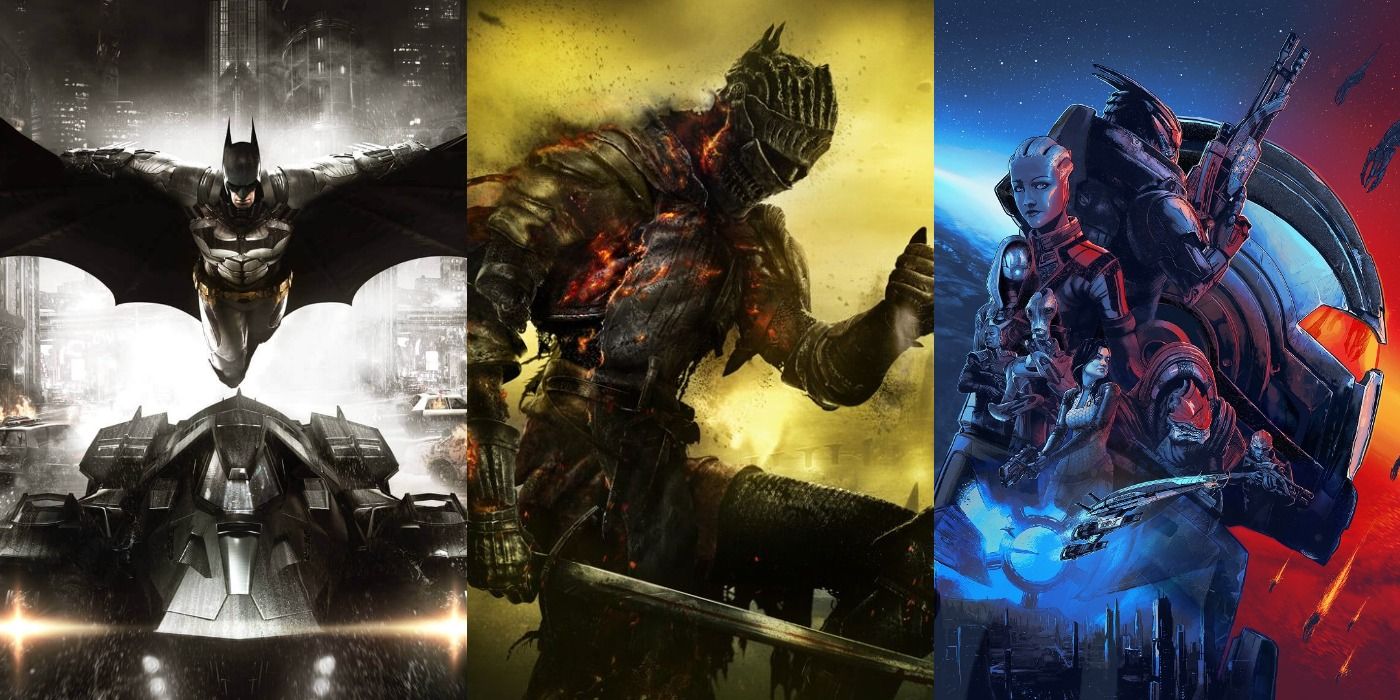 The Steam Summer Sale 2022 is just around the corner, with its date officially confirmed for June 23rd through July 7th. It's the best time for gamers around the world to capitalize on some of the best video game discounts around, with nearly everything fans would want being discounted to at least some degree.
Likewise, this means the Summer Sale is an excellent opportunity to grab gaming bundles, including trilogies of games on the cheap. Landing a solid trilogy is difficult in just about any medium, but there are several worthwhile options to get on Steam starting next week.
Batman: Arkham Collection
Rocksteady's Batman: Arkham trilogy cemented itself as some of the greatest modern superhero games. Just as well, it was the franchise revitalization that the brooding Caped Crusader needed in the video game medium, similar to what director Christopher Nolan did for the character in The Dark Knight Trilogy of movies.
The Arkham games also revolutionized superheroes in gaming overall, helping pave the way for more smash hits like Insomniac's Spider-Man games. Rocksteady's games have been consistently well-received for having a combination of excellent storytelling that honors the Dark Knight's mythos, cathartic free-flowing combat, and stealth sequences that feel just as empowering. Another worthy shout would be to look out for WB Games Montréal's Batman: Arkham Origins prequel.
Mass Effect: Legendary Edition
Often hailed as one of the best modern RPGs, the original Mass Effect trilogy marked part of developer studio BioWare's golden era before their reputation took a hit in more recent years. Andromeda has been seen as a dark spot in the series for lacking many of the original trilogy's strengths, but it looks like the devs have taken a half-step forward with last year's Mass Effect: Legendary Edition.
This collects the first three games remastered into one package, breathing new life into this immersive sci-fi world. Gameplay, performance, and visuals have all been noticeably improved for modern consoles and PC, with the first game getting the biggest facelift. The original Mass Effect trilogy has been widely acclaimed for its colorfully compelling cast of characters, story writing, sci-fi worldbuilding, and player freedom in shaping the stories' outcomes.
Tomb Raider: Definitive Survivor Trilogy
Once a PlayStation exclusive icon, Lara Croft in the Tomb Raider franchise has since expanded across many gaming platforms, including PC. The series has seen several reinventions since then, and developer Crystal Dynamics (Tomb Raider, Rise of the Tomb Raider) and Eidos-Montréal's (Shadow of the Tomb Raider) reboot trilogy is among the best of them.
This trilogy was well-received for having a darker, more grounded take on Lara Croft's world without sacrificing its alluring elements of mysticism. The action and survival mechanics were generally well done, and though the gore can admittedly get gratuitous at times, the Definitive Survivor Trilogy does well to set itself apart from action-adventure contemporaries like PlayStation's Uncharted.
Assassin's Creed: Ezio Trilogy
Though it's unfortunately unrecognizable today for veteran fans, the Assassin's Creed: Ezio Trilogy (II, Brotherhood, Revelations) represents Ubisoft's series during its apex. The games were another take on immersive stealth-based action, and it combined this with an irresistibly suave lead protagonist in Ezio set to the backdrop of late-1400s Italy.
Its story throughout the Ezio Trilogy spirals into a thrilling tale of swashbuckling historical fiction with an ancient conspiracy at its core, making for one of the most memorable stories and characters in the Assassin's Creed franchise. Some of these praised games' mechanics are dated, but those willing to look past them are in for a grand and fun adventure.
The Witcher Trilogy
While The Witcher 3: Wild Hunt specifically is one of the best modern fantasy RPGs around, the whole trilogy is worth the effort for hardcore RPG and fantasy buffs willing to install some mods. Helping elevate author Andrzej Sapkowski's world of The Continent to new heights, CD Projekt Red's The Witcher trilogy tells original stories set after his books.
They bring to life monster hunter Geralt of Rivia and his world in a beautifully grim fashion, and they should satisfy those hungry for more content coming off of the hit Netflix series as well.  The Witcher trilogy has been collectively lauded for its rich dark fantasy world, storytelling, character writing, and explorations of moral ambiguity — with Wild Hunt reaching a euphoric peak in all these areas and more. In addition to sheer quality, fans would do well to pick up The Witcher 3 on sale to get the upcoming remaster as a free upgrade.
Dark Souls Trilogy
Sating on the theme of dark fantasy, FromSoftware revered and genre-defining Dark Souls trilogy is more than worth the investment for players looking for a challenge. Elden Ring has become the developer's latest high point, but the Dark Souls series still holds up wonderfully now that the original game received the remastered treatment.
Set in a bleak dark-fantasy world, players will build up from nothing to navigate the hauntingly stunning locales of this trilogy defined by FromSoft's unique brand of subtle, yet tantalizing worldbuilding, storytelling, and compellingly tough boss fights. It's also easy to get lost in the lore for fantasy enthusiasts, with all the rich history and imperfect, fascinating decisions to shape the story.
Hitman – World Of Assassination Trilogy
The original string of Hitman games from the 2000s were some of the best stealth games alongside the likes of Splinter Cell and Metal Gear Solid. IO Interactive then reinvented the series for the current gaming scene and — aside from some admittedly baffling consumer decisions in marketing the games — the Hitman – World of Assassination Trilogy is the series at its addictive best.
While Hitman doesn't have as big of an emphasis on story as other series, this trilogy was welcomed partly for introducing something of a cohesive narrative. However, the meat of these games lies in the gameplay and level design. The Hitman – World of Assassination Trilogy was especially praised for the devilishly enticing and darkly comedic level of player freedom allowed in tackling assassinations on each level, giving the series immense replay value.
Max Payne Trilogy
For players wanting a third-person shooter with a neo-crime noir wrapping, the Max Payne trilogy should more than suffice. Developed by Remedy Entertainment (Max Payne, Max Payne 2) and Rockstar Studios (Max Payne 3), these stories follow the titular character as he turns from police detective to vigilante after his family was murdered.
The games were consistently met with positive receptions, with praises going to their moodily stylized atmosphere, level design, and gunplay combat. Max Payne games are perhaps most iconic for their "bullet time" slow-motion mechanics. Should players come away satisfied, Remedy and Rockstar recently confirmed that remakes of the first two games are in development.
NEXT: Redditors' 7 Most Hyped Xbox & Bethesda Announcements
Nintendo Direct June 2022 – Why June 29 Seems So Likely
About The Author