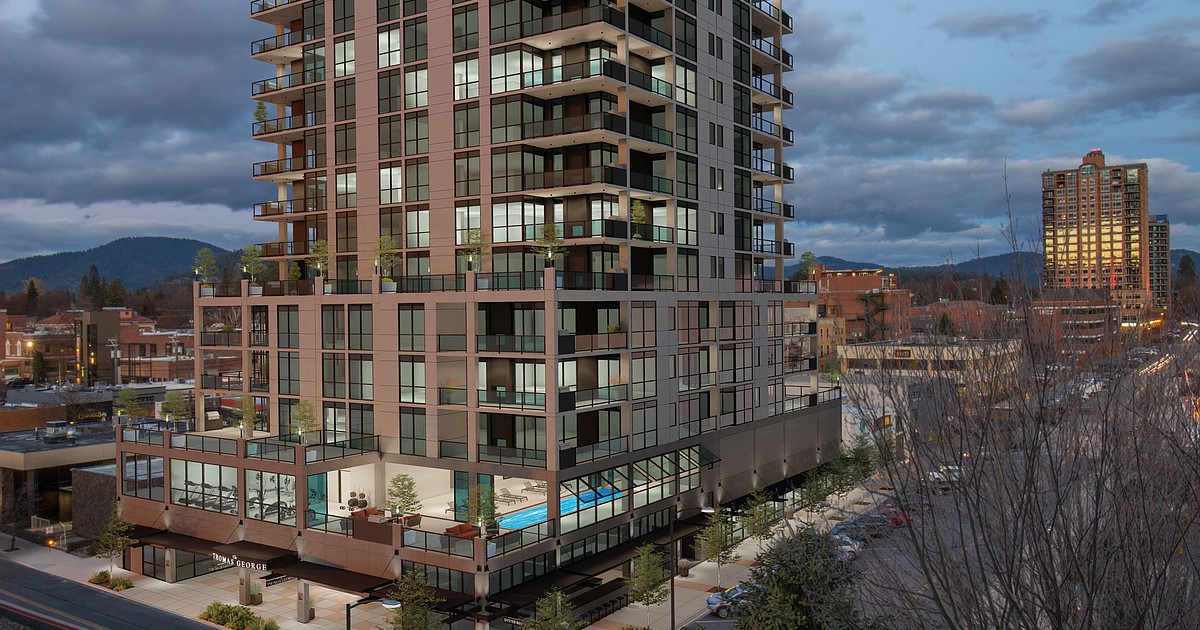 The site is fenced and blocked off for construction of the 18-story Thomas George building in the northeast corner of Front Avenue and Third Street.
Demolition of the former bank facilities starts this week, and excavation and shoring for the below-ground parking area should begin mid-summer. Construction will start mid-summer for about 20 months with a March 2024 completion date.
The amenities of the place of 60 luxury living units and retail shops on Front Avenue include a covered main entry, a main lobby with a fireplace, a club room with an indoor-outdoor lap pool, a lakeview fitness center, a golf simulator facility, a conference room and a marina third-floor outdoor terrace with a fire pit and lake views.
All residences have double-sided fireplaces, views from terraces and two-car garages. The name Thomas George responds to principals of the development having multi-generational North Idaho history. Check www.thomasgeorgecda.com.
For sales contact Hayden Anderl of Coldwell Banker Schneidmiller Realty at 208-964-0234 or hayden@cbinw.com.
Two Giant Storage places happening
With units available from 5×10-feet to 20×48 feet, Giant Storage complexes are happening in Post Falls and Coeur d'Alene.
The Post Falls complex is at 4185 E. Horsehaven Ave., on Highway 41 just before Poleline, and the Coeur d'Alene location will be at 3491 W. Industrial Loop, just off Atlas Road, in the winter.
Both complexes include 24-7 monitoring, gated access, ground-level units, power available and storage for RVs, boats and vehicles. Owners are Shawn and Justin Sternberg of Coeur d'Alene. Phone 877-GIANT41 9 a.m. to 5 p.m. Monday through Saturday. Check www.GiantStorage.com.
Retro Arcade offers party activities
With many mobile activities for parties, Retro Arcade LLC is a new mobile business for North Idaho.
Owners Gary and Kasey Key offer 11 stand-up video games, a sit-down car-race game and old-school classic games such as "Galaga," "Centipede," "Pac-Man," "Street Fighter II," "Donkey Kong" and "Asteroids."
Phone 208-618-9721, Check www.retroarcadellc.com and Retro Arcade LLC on Facebook and Instagram.
Now the Tidbits
Bottle Joy taphouse will be at 1208 E. Sherman.
CDA Idaho Clothing Company is expanding from its current location at the northeast entry of the Plaza Shops building into the former Grace & Joy space.
The Thomas George building planned for the corner of Third Street and Front Avenue would be 18 stories mixed with commercial places on the first floor and 60 condominiums above.
Watch for details on new buildings under construction for corporate offices for Rogers Burgers on Government Way and Caliber Collision by Metro Car Wash in Post Falls.
St. Joseph's Ear, Nose, Throat & Allergy Clinic will have a new building at 849 N. Syringa, Post Falls.
Watch for commercial construction west of Highway 41 between 16th and Horsehaven in Post Falls.
Post Falls RV Campground is under construction at 70 W. Cabelas Way between the Cabela's store and State Line Walmart in The Pointe at Post Falls.
Many of 16 commercial lots are available in the planned Prairie Crossing Shopping Center in the northeast corner of Highway 41 and Prairie Avenue.
A burger place and cosmetic salon will be in the new building at Fourth and Lakeside.
A new building for Etco Services is under construction off Huetter north of Seltice and I-90
The PACR office building is under construction at 1857 W. Hayden Ave.
Breaking Bread Bistro will be where Davis Donuts was at Fourth and Best.
Literary Souls Used Books is moving to Ste. F at 205 E. Seltice Way.
A sign on Wayne Drive in Hayden says "Future home of Blue Chip Chiropractic."
A new Pizza Hut will be in Hayden.
The Mill will be a four-story mixed-use building at Government Way and Mill Avenue with businesses on the ground level and 43 apartments above.
Consign Furniture has a "coming soon" sign southwest of the U.S. 95-Lancaster Road intersection.
An Express Exterior Carwash is being built in the 3400 block of Seltice in Post Falls.
Club Pilates will be in Hayden Design Center at 9235 Government Way.
Cornerstone, a four-story commercial and residential building, is under construction in Riverstone.
Bruchi's quick service restaurant is planned for a new building north of the corner of Highway 41 and Mullan Avenue.
Watch for construction of Vantage Point Brewery across from Michael D's Eatery off Coeur d'Alene Lake Drive.
A Grease Monkey auto place will be at the Crossings in Athol.
Gentlemen Sausages will soon be in the former Abi's Ice Cream location at 112 Fourth St.
TownePlace Suites by Marriott Hotel is being built where the Outback Steakhouse was in the southeast corner of I-90 and Northwest Boulevard.
Watch for an antique and collectibles mall coming to Post Falls.
A new commercial and residential building, Midtown Centre, is being built at 821 N. Fourth St.
Watch for major changes with the Burger Bunker and Bunker Bar off Spokane Street in Post Falls.
The Den will be a new tavern at 761 N. Idaho St. in Post Falls.
The CD'A Corner Store is adding a kitchen and tables downtown.
Coeur d'Alene Nissan will have a major addition to its building off U.S. 95.
The Post Falls Pavillion food truck court will be near the Highway 41 and Horsehaven intersection.
Last weekend we went to a Mariners' game in Seattle. It was a fun evening, and they won! Take the Rail Link train and you don't have to park ($).
Contact Nils Rosdahl at nrosdahl@cdapress.com