This Week
What Is TheGamer Staff Playing This Weekend?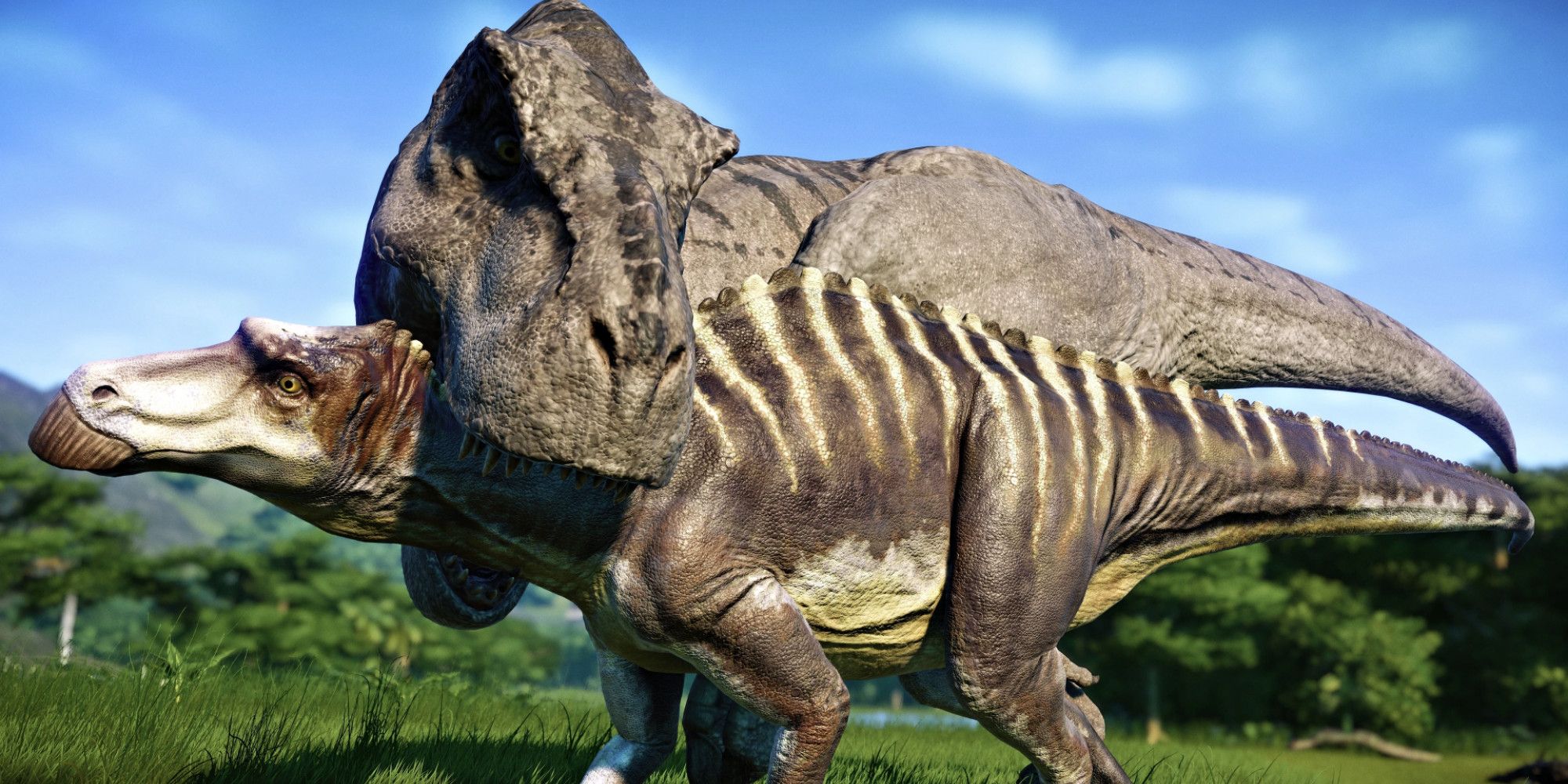 It's the weekend, which means it's time to hitch your hammock to a pair of tree trunks, grab some pineapple lemonade Naturdays, and kick back and enjoy the summer sun. If the climate crisis means the summers are going to be sweltering, I am going to ride that swelter like the perfect wave. I'm also going to play some video games, and so are my colleagues at TheGamer.
But, what are you playing this weekend? And will you be joining me in hoisting Natural Light's most deliciously cheap shandy?
RELATED: I Watched Summer Game Fest With My Mum And She Thought It Sucked
Andrew King, Features Editor
Like last weekend, Vampire: The Masquerade – Swansong and Citizen Sleeper are still on the docket. I've been playing Cyberpunk 2077 recently, but these two RPGs with significantly smaller scales and budgets are drawing my attention right now instead. I also want to see Crimes of the Future, but the closest place it's playing is 40 minutes away, so I have to decide if Ear Man and Kristen Stewart are worth the gas money. We'll see. Most importantly, the weather is supposed to be nice on Saturday, so I want to put up my hammock and play my Switch. I've only spent a little bit of time with Card Shark, but Hammock Time seems like the right time to give Nerial's sleight-of-hand 'em up some more attention.
Joe Parlock, Tabletop Editor
A couple of weeks ago, I finally got my Steam Deck after almost a year of waiting. This high-powered portable PC can run almost any game you throw at it, and I did spend a while tinkering with games like Elden Ring and The Elder Scrolls Online. Then I downloaded Slay the Spire onto it and whoops, it's now become an avenue for yet more card games. This little card-based roguelike is perfect on handheld devices. The runs are short, and you can just put it down whenever you like to come back to it later. I'm currently working my way through unlocking things for the final class, The Watcher, and am astounded by how different each run can feel with such a limited card pool.
Helen Ashcroft, Evergreen Editor
After a run of no new releases that particularly interest me, I can now look forward to a flurry of DLC for some of my favorite sim games. First up is Jurassic World Evolution 2 Dominion Biosyn on Tuesday, then The Sims 4 Werewolves on Thursday, followed early the next week by Planet Zoo's Conservation pack. This weekend I will mostly be preparing for the excitement by starting to create a household to be converted into werewolves, planning a zoo for endangered species, and watching Jurassic World: Dominion. Okay, the last one might not count as a game but it's likely to get me hyped to jump back into the DLC and finish off that Biosyn compound.
James Troughton, News & Photo Editor
I finally got around to hooking up my PS3, so I slipped my trainers on and ran straight to the local second-hand game store to pick up a few modern classics. I came back with Infamous, Spec Ops The Line, Silent Hill, Metal Gear Solid 4, and so many more, but the gleaming gem among the diamonds is Brutal Legend, Tim Schafer's best work yet. It sees Jack Black in a world of metal with giant beautiful landscapes marked by volcanos and sublime stone sword monuments, all while you face off against an army of Edward Scissorhands lookalikes, a wannabe David Bowie, and a pissed-off demon in leather. You shatter hordes with your guitar, upgrade your car by talking to Ozzy Osbourne, and even get to meet the second half of Tenacious D – Kyle Gass. If you're an all-things Jack Black and metal fan, it's the perfect game, so I'm definitely the mark.
Stacey Henley, Editor-in-Chief
Video games? I've been playing the game of life, my children. I have walked by the ocean, I have inhaled the air of the wilderness into my lungs, I have held a woman. I have experienced all the feasts this life has to offer in the few meager decades I have to make my own. Also, I've been dabbling in FIFA 22 a bit.
Harry Alston, Lead Specialist Writer
Alright, Stacey, chill out. I'm also taking a break from games this weekend to go get wasted on a beach in Margate. That's what life is really about. Fish and chips, Stella Artois, and sadness. Might play some Super Auto Pets on the bus back, though.
Jade King, Lead Features Editor
This weekend I shall be gaming. I might also be crying, sleeping, and eating – but gaming takes precedent. Now a couple of review assignments are out of the way I'll be jumping back into Horizon Zero Dawn and Until Dawn. All the dawns! I also want to check out the demo for Fire Emblem: Three Hopes ahead of release to see all my favorite anime teenagers again.
Andy Kelly, Features Editor
I was in the mood for a JRPG, so I downloaded the demo of Dragon Quest XI on Switch and that's been devouring all my free time. Very charming, pretty game, if a bit simplistic. Amazing localization and voice acting. It's a 10-hour demo, and your save carries over to the full game if you buy it, but I'm not sure I will. I have a lot of games on my backlog at the moment, and HLTB says DQXI's main story is 88 hours long. I know deep down that I'll probably never finish it, so dropping 50 entire pounds on the thing is probably foolish. I reckon I'll finish the demo and treat it like a 10-hour game that just ends really abruptly with no plot resolution.
Issy van der Velde, News & Evergreen Editor
As a newly single man, I've been playing the field quite a bit, but also a lot of Roller Champions. It's a high-octane roller derby where you get to dress up in sparkly outfits, stupid big hair, and skates that leave flame trails. Oh, and you get to beat the shit out of your opponents and dance in their faces when you win. It's got a pulsing EDM soundtrack that makes the pre-match menus way more fun than they have any right to be, and I just love how easy it is to dive in and rattle off a few rounds before bed. You can win a match in a minute and they rarely last longer than ten – just like me, hence why I'm newly single.
Quinton O'Connor, Specialist Writer
I talk about JRPGs for an estimated hour a day, often to roommates who vaguely entertain my obsession because it's the polite thing to do. And yet, I've never finished Xenoblade Chronicles. With the third game fast approaching, I knew it was time to amend this. I'm nearing the end and loving it, so odds are good it'll get wrapped up this weekend. You can probably add a dash of Mario Kart 8 in there somewhere since in return for humoring my JRPG rants, my roommates often exact a toll in the form of destroying me on Big Blue.
Amanda Hurych, Evergreen Content Lead
I'm idly waiting for Halo Infinite to get either campaign co-op or some kind of Firefight game type. So in the meantime, I'm dipping into Halo: The Master Chief Collection. The Flood Firefight mode is heckin' fun, and there's nothing I like more than playing some split-screen Halo with a friend. We are spending hours of our time on the weekend going through all the side-by-side-on-a-couch stuff that Halo can give us, be it multiplayer or campaign. Seriously, we're so desperate to play Halo content together, we're even hopping on to play Halo 4: Spartan Ops while we wait for Halo Infinite to give us the couch co-op we want/deserve.