Top Rated
Best Nintendo Switch Point-And-Click Adventure Games, Ranked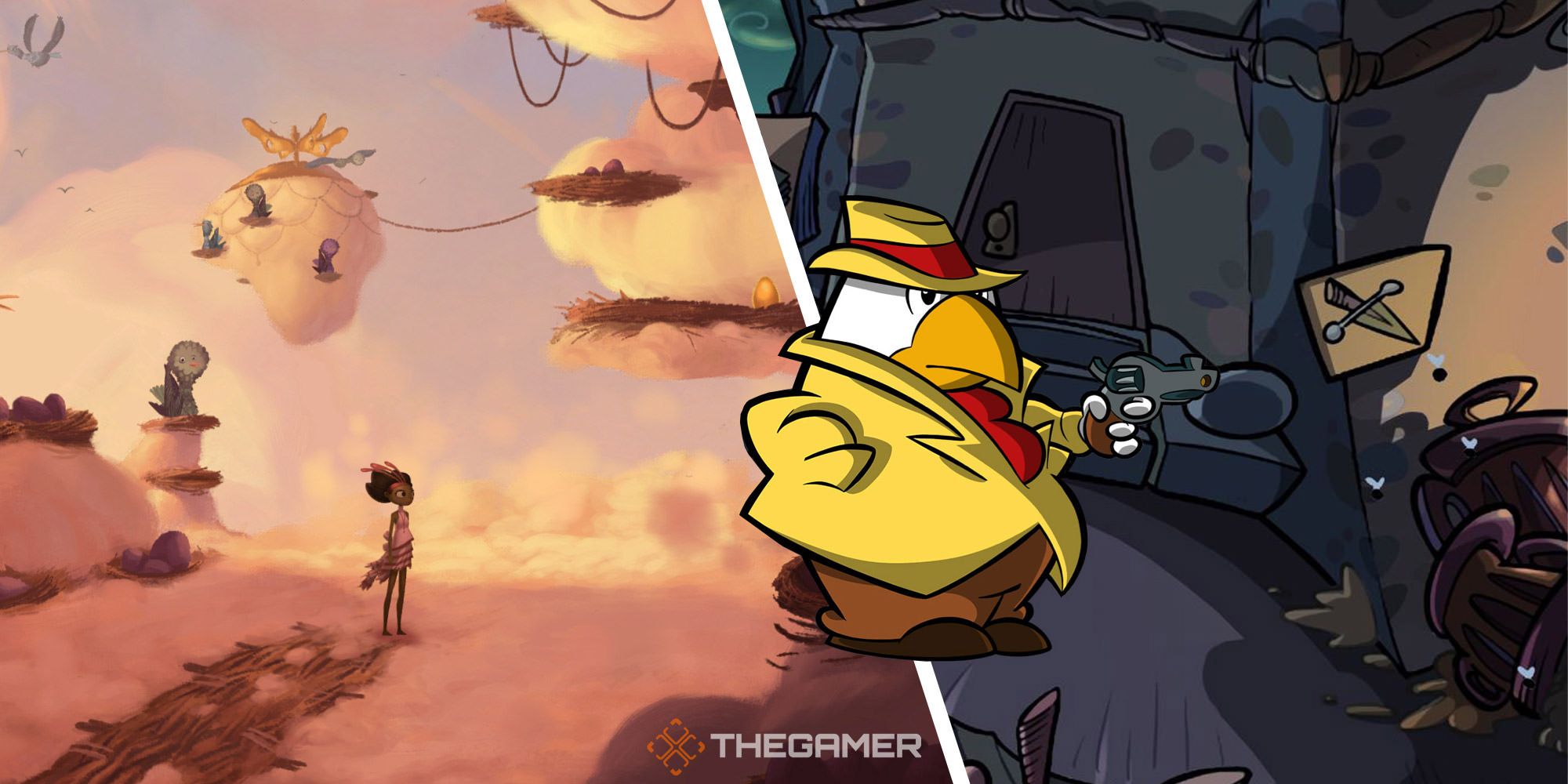 The point-and-click adventure game genre is beloved and not just because it has been around since the earliest days of PC gaming. The genre also offers variety and has an easy-to-pick-up and play nature. Of course, not all point-and-click adventure games are created equal. For every fantastic release, there is sure to be one title that is better avoided.
RELATED: How Mass Effect Was Demade Into A Monkey Island-Style Point-And-Click Game
Fortunately, for Nintendo Switch fans, the point-and-click genre thrives on the platform with new games being added all the time. The Nintendo Switch might be the best place to play these styles of games since they are often a more relaxed experience with simpler controls. While there are a plethora of point-and-click games to choose from, the following ten are some of the absolute best the Switch has to offer.
Updated on May 23rd, 2022 by Geoffrey Martin: The Nintendo Switch continues to be a bastion for point-and-click adventure games. This genre is perfect for the Switch since fans can enjoy the games at home in docked mode or on the go via handheld mode. Point-and-click adventure games are really all about the story, more so than gameplay, however, some games combine both effortlessly to make for an engaging experience. The Switch houses new point-and-click titles along with plenty of remasters. This list continues to evolve with some of the best the genre has to offer on Nintendo's beloved dual-purpose system.
12

The Darkside Detective
The Darkside Detective is a comedic and spooky point-and-click game starring Detective Francis McQueen. This game is dripping with satire, fourth-wall-breaking moments, and plenty of shenanigans to keep you hooked through each mini-narrative adventure. The Darkside Detective is broken up into multiple smaller vignettes, with Detective Francis McQueen always front and center.
Occult and paranormal mysteries abound in The Darkside Detective with each mini-story somewhat tying into the other narrative beats. The gameplay here is a pretty standard affair with you being able to explore various pixel art locations, finding clues, chatting with quirky characters, and piecing together clues in order to solve the mysteries.
11

The Raven Remastered
The Raven Remastered is, of course, a remastered version of the original KING art game of the same name, minus the remastered moniker. Taking place in 1906s London, players must figure out who the mysterious thief in the game is. This notorious thief always leaves a raven mask calling card and this time around, a prized gem has been stolen from the British Museum.
The Raven Remastered is a top-notch crime thriller that will keep you on the edge of your seat during its runtime. You won't find any revolutionary gameplay mechanics here since it's a standard point-and-click experience, however, the game is brimming with atmosphere and plenty of tense moments.
10

Lair Of The Clockwork God
Lair of the Clockwork God is one of the more interesting and unique point-and-click adventure games because it is also a platformer. This game sees you play as Ben and Dan, switching between them as the story unfolds. Ben and Dan must stop every apocalypse from happening all at once.
RELATED: Old-School Point And Click Adventure Games That Still Hold Up Today
In terms of gameplay, you play out the point-and-click adventure sections as Ben, which will help towards creating items for Dan to utilize during the platforming sections.
9

Darkestville Castle
Darkestville Castle is a fantastic point-and-click adventure game that takes many cues and inspirations from early genre titles such as The Curse of Monkey Island. Darkestville Castle casts you as Cid, a skeleton-like demon who likes to wreak havoc on Darkestville Town each and every night, but all done with a jovial attitude.
However, Cid's long-time rival, Dan Teapot, has other plans and won't make things easy for him. Darkestville Castle shines because of its challenging puzzles, playful sense of humor, and dose of gothic sensibilities.
8

Willy Morgan And The Curse Of Bone Town
Willy Morgan and the Curse of Bone Town is a highly stylized and vibrant, cartoony point-and-click game that happens to be set in a fantasy pirate-themed world. However, there are some modern touches in Willy Morgan's world that provide a nice contrast of time periods. This game deals equal helpings of humorous moments and thoughtful puzzle gameplay.
RELATED: Willy Morgan And The Curse Of Bone Town Review: Leave 'Em Wanting More
Willy Morgan and the Curse of Bone Town can be quite a challenging experience due to its non-linear gameplay and devious puzzles. Fortunately, the game offers a lot of different items and solutions to keep the moment-to-moment gameplay fresh throughout.
7

Nine Witches: Family Disruption
Nine Witches: Family Disruption is an occult-tinged point-and-click game taking place in Norway where a German WW2 division mistakenly unleashed a supernatural curse upon the world. In this darkly comedic adventure, you will take on the roles of Alexei Krakovitz and Akiro Kagasawa as they work to stop this heinous event from spreading.
What really makes Nine Witches stand out is the ability to freely roam around the various environments, exploring for clues, and solving tricky puzzles. There is quite a bit of challenge in this game since the items the characters collect aren't always used as you would first think, instead requiring problem-solving.
6

Detective Gallo
Detective Gallo is a quirky, charming, and hilarious comic-noir point-and-click adventure game that features lush hand-painted and hand-animated graphics. Detective Gallo is tasked with a crazy case, one that tests all of his abilities. Unfortunately, for everyone else, Detective Gallo is also one grumpy chicken.
The bonkers story is all about various plants being murdered for seemingly no reason. No one really seems to care except for one billionaire who is willing to pay to get answers. This game has some downright tricky puzzle sections mixed with traditional adventure-style gameplay.
5

The Book Of Unwritten Tales 2
The Book of Unwritten Tales 2 is another lovingly crafted entry in the KING art series and the obvious follow-up to The Book of Unwritten Tales. This new entry features multiple characters to play as and a silly story that spoofs many much-loved franchises such as Harry Potter and The Lord of the Rings.
The Book of Unwritten Tales 2 is unique in that it features hundreds of puzzles, most of which are based on logic and deduction. Since you are able to play multiple characters in the fantasy realm of Aventasia, you will need to explore and try out different item combinations and interactions.
4

The Last Door
The Last Door is a unique and mysterious horror-themed point-and-click adventure game that features a muted pixel art style and moody, gothic-inspired music. The Last Door takes place in Victorian England and players assume the role of Jeremiah Devitt, who, after receiving a cryptic message, returns to an old friend's estate to uncover the mystery.
The Last Door sets itself from its counterparts with some genuinely unnerving gameplay moments and devious puzzle sections. The key to succeeding against the otherwordly forces in this game is to fully explore every nook and cranny to find hidden items and pieces of lore.
3

Broken Age
Broken Age is a family-friendly, colorful point-and-click adventure game from the lovely folks at Double Fine Productions, the creators of Psychonauts. Broken Age stars Vella and Shay, two teenagers who are a lot alike but with one major difference – they live in completely different parallel timelines.
The most unique aspect of Broken Age is that you can freely swap between Vella and Shay in order to solve puzzles, find items, and wrap up quests or narrative loops that only exist in each of their respective worlds.
2

Grim Fandango Remastered
The original PC version of Grim Fandango is a timeless classic, full stop. It's no surprise then that the remastered version for the Nintendo Switch is just as appealing as ever, especially for newcomers to the series. Taking place in the land of the dead, you are Manny Calavera, a travel agent who works for the Department of Death.
RELATED: Grim Fandango Designer Tim Schafer Thanks Fan Wikis For Helping Devs With Fact-Checking
Unfortunately for Manny, a conspiracy threatens not only his livelihood but also his eternal salvation. Grim Fandango is a genre staple that all point-and-click adventure fans should try out at least once. This remastered version includes better lighting, music, and graphics.
1

Thimbleweed Park
Thimbleweed Park is a modern take on the point-and-click genre that also happens to be a love letter to the genre, created by veterans Ron Gilbert and Gary Winnick. Thimbleweed Park is all about strange and ominous goings-on in the titular town. This story centers on five playable characters that have been drawn to the town for one purpose, but none of them happen to know that.
Thimbleweed Park, like Monkey Island and Maniac Mansion that inspired it, is full of witty jokes, goofy one-liners, and endlessly challenging puzzle gameplay all wrapped up in a crazy narrative.
NEXT: Touching Point-And-Click Puzzler, When The Past Was Around, Available Today On Switch